Last weekend, the La Tour Genève Triathlon took place. It has now become the largest triathlon in Switzerland, with more than 3,500 participants. The event has not only brought together athletes from all over Switzerland to take part in one of the 7 race formats, but it has also united people around the refugee cause. Members of Switzerland for UNHCR and of UNHCR, the UN Refugee Agency, ran a booth on site to raise awareness about the organization's activities in Switzerland and around the world. Some of them even participated in the races, as a show of solidarity with refugees.  
In total, almost CHF 13,000 were raised for UNHCR, either through donations made at the time of registration, or through the sponsorship of racing participants. Chiara Valdesolo raised more than CHF 1,500 for Switzerland for UNHCR by running. We had the opportunity to meet with her after the triathlon to ask a few questions (giving her a few minutes to catch her breath of course):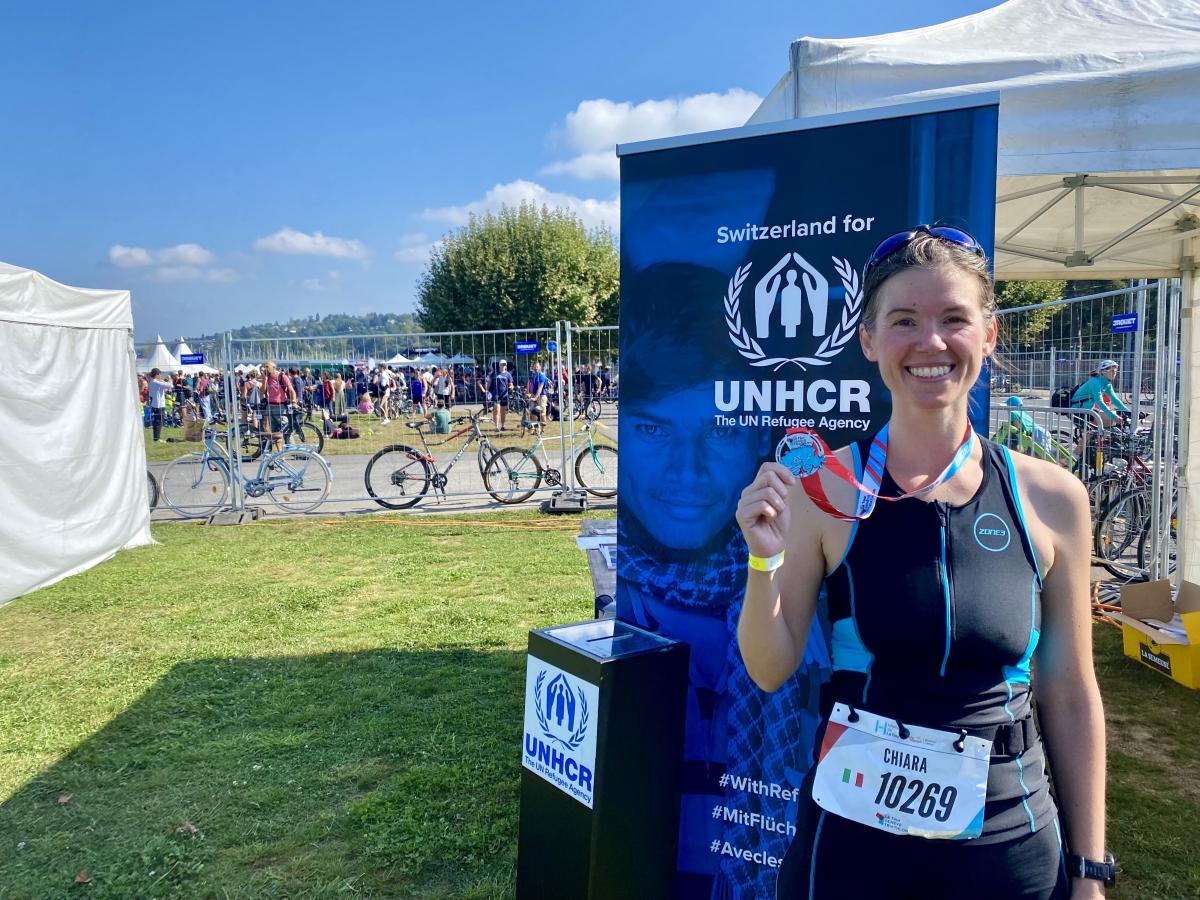 Chiara raised more than CHF 1,500 by getting people to sponsor her participation to the race. © Switzerland for UNHCR
Switzerland for UNHCR: Thank you so much for supporting our cause, can you tell us about your race?   
Chiara: I chose the standard triathlon: 1.5km swim, 40km bike and 10km run, which comes out to 51.5km. It took me a little over 3 hours, and I'm very happy with my time because even though it's not my first triathlon, I really haven't had the chance to train during COVID. UNHCR's cause was the extra motivation I needed to get going, especially to ask friends to sponsor me. 10 Francs per kilometre, it's a simple and clear concept. And you can tell by how much I raised. We are way above the objective I had initially set! 
Why did you decide to support Switzerland for UNHCR?  
There are two main reasons. First, my work with The Global Fund which focuses on Mali. Second, I'm an Italian who's lived in Switzerland for 10 years. So, I'm a part of what we call the expat community.  Having moved away from home, and working to support a country with a very large number of refugees and internally displaced people, helps me understand a little of what they are going through, even though my situation is in no way comparable to theirs. That said, I know what goes on inside refugee camps, and how families are sometimes separated, and that is something I really care about. Not to mention the latest humanitarian crises, like Afghanistan and Syria, from which there is no escape. 
Members of the Switzerland for UNHCR team meet at the finish line after the race. © La Tour Genève Triathlon
What did you most enjoy about starting a fundraiser?
Seeing that people were willing to support me. Discovering that people you don't necessarily know are committed to the same cause, are willing to spread your message and forward your sponsorship request within their own networks. This kind of domino effect ended up with people I don't even know sponsoring the race of a 40-year old in a triathlon to support refugees. That's a pretty cool feeling!   

Any advice for people who want to get involved but don't know where to start?   
You have to take it one step at a time, start with small tasks. During the lockdown, for example, I contacted organizations and food banks in my neighbourhood and I let them know that I like to bake and asked if they were interested. They said "absolutely!". And so, I spent much of the lockdown baking cakes and breads to help people in need. So, start by looking at what's going on around you, in your community. Unfortunately, there will always be needy people; fortunately, there is a very large network of aid organizations that you can support.