Early 2023, Switzerland for UNHCR, the UN Refugee Agency national partner in Switzerland and Liechtenstein, announced an innovative collaboration with the Cardano Foundation, at the core of their Annual Global Impact Challenge. Almost 7 months have passed, and many conversations were initiated within the Cardano community with the goal to raise awareness on the plight of people forced to flee but also to attract delegations on WRFGS, our stake pool for refugees, built on the Cardano blockchain. 
Find out more about Blockchain for Refugees
Together with Goat Tribe, a prominent actor in the Cardano ecosystem, we united our efforts and launched the Kind Hoofs initiative through the sale of exclusive NFTs featuring their iconic goats dressed in Switzerland for UNHCR items. This innovative and fun partnership aims to leverage the power of blockchain and the Cardano community to raise awareness and mobilize critical funding, in order to make a meaningful impact on the lives of those most in need. 
Using Blockchain for Good 
As a first step of our collaboration, a 24-hour auction of a unique 1/1 NFT on Dramz auction house was launched. After multiple bids, the exclusive NFT went to a lucky community member for the price of 520 Ada, the native cryptocurrency of Cardano - roughly equal to 130 Swiss Francs.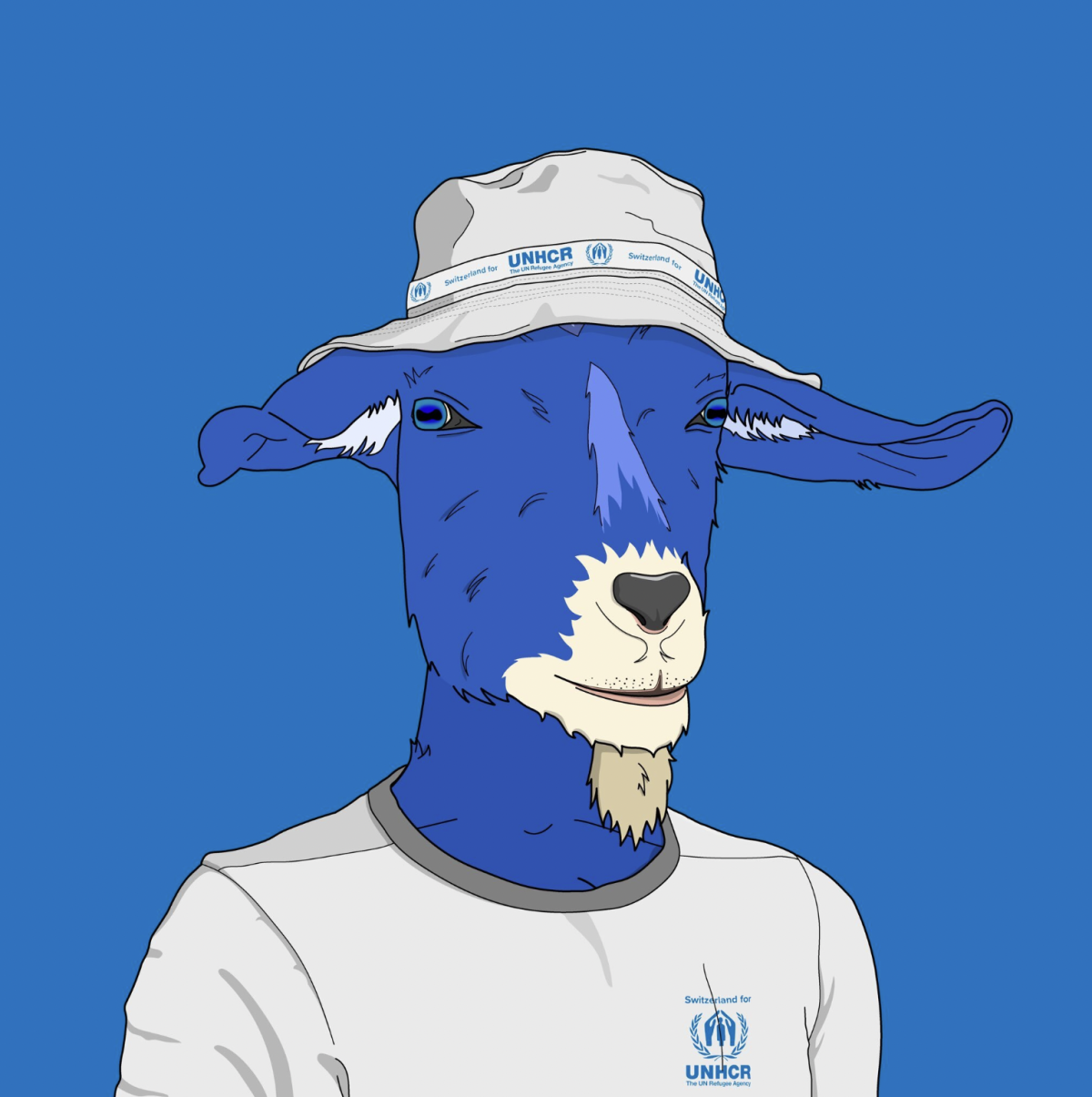 Unique Kind Hoofs NFT auctioned on Dramz Auction House for 520 Ada.
Later during the week, the auction was followed by a limited sale of Kind Hoofs X Switzerland for UNHCR NFTs that was SOLD OUT in less than 48 hours. As the process was completely randomized, the range of combinations was extremely vast, with the element of surprise being central as the goat was revealed at the end of the minting process. 
Here are some of the Switzerland for UNHCR stamped goats: 
An incredible support 
We would like to express our heartfelt gratitude to everyone who has purchased one or multiple NFTs. The entire community has shown great support, making both projects  a remarkable success. We have decided to launch similar sales throughout the year, with all profits going to UNHCR operations in the field and towards its innovation programmes.  
Make sure to keep an eye open on our social media accounts so you do not miss our next drop! 
About Goat Tribe and the Kind Hoofs initiative: Kind Hoof, a non-profit fund brought to you by GOAT Tribe, is an integral part of the organisation's mission. Goat Tribe is committed to championing worthy causes and raising awareness for initiatives that embody a positive and meaningful message. With a shared vision for making a difference, Kind Hoof works tirelessly to amplify the voices of these deserving entities, fostering widespread recognition and support. United under the GOAT Tribe banner, both strive to create a lasting impact and inspire a collective movement towards positive change.