THE HUMANITARIAN CRISIS IN THE HORN OF AFRICA IN FIGURES
Somalia, Ethiopia and Kenya are among the countries most severely affected by the drought.
23 million
people are acutely malnourished in the region
3.8 million
Somalis have been forced to flee their homes since early 2021
>12 millions
people already displaced in the region are particularly vulnerable
Less than a quarter
of the funds needed to assist displaced people in 2022 have been raised
An alarming situation
It has now been five consecutive rainy seasons with little or no rainfall in the Horn of Africa region. This drought, the most extreme in over 40 years, is being called "the unseen" by locals - such is the intensity of the weather phenomenon. Somalia, Ethiopia, and Kenya are facing this major crisis, while millions of people are already displaced in the region.  
Risk of famine destabilising the region
The scarcity of certain resources is often a source of conflict. When it comes to something as necessary to life as water, it represents a challenge for the entire region. Malnutrition rates, already high, are likely to increase further unless the international community acts quickly in solidarity with those affected by this crisis. The prospect of widespread famine seems increasingly certain.  
I can't count the number of people who have had to flee with us. Almost everyone in the village has left.  
Ardo and his four children undertook a harrowing 260-kilometre journey to reach the Mara-Gaajo site. With their livestock decimated, they had no choice but to seek water and grazing elsewhere to save themselves and their remaining animals.  
What UNHCR is doing
UNHCR has been active in the region for years. Indeed, the war in Somalia, the recent crisis in Ethiopia, the situation in Sudan and South Sudan means that the UN agency is already well established in the region. It supports displaced populations with, among other things, shelters, basic necessities such as cooking utensils, mattresses and hygiene products. It contributes to the installation of wells, and mobilises food sanitation in coordination with other agencies such as the WFP.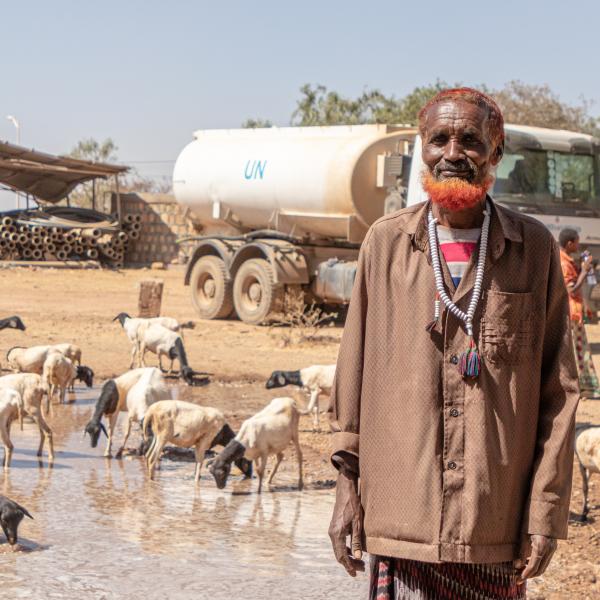 Your support is essential
The various programmes to assist displaced populations in the Horn of Africa are among the most underfunded at UNHCR. As of December 2022, only 45% of the funds needed to meet the needs of displaced people in the region have been raised. UNHCR and its partners urgently need the support of the international community to prevent the situation from deteriorating further. Your help is now more valuable than ever.  
Two pages have been made available by UNHCR to learn more about the situation on the ground and its evolution :