On February 6, people in southeast Türkiye and northern Syria were surprised by two very powerful earthquakes. Dozens of tremors and aftershocks were felt over the course of the day in other parts of the region. Since many were still asleep at that time, the immediate reports were devastating. Within 24 hours more than 2,600 deaths were confirmed by authorities in Türkiye and Syria, with many more people injured. A week after the disaster, over 25,000 deaths had been reported across the two countries, with tens of thousands more injured. Homes and public infrastructure have been severely damaged, and many buildings have collapsed or become structurally unsound.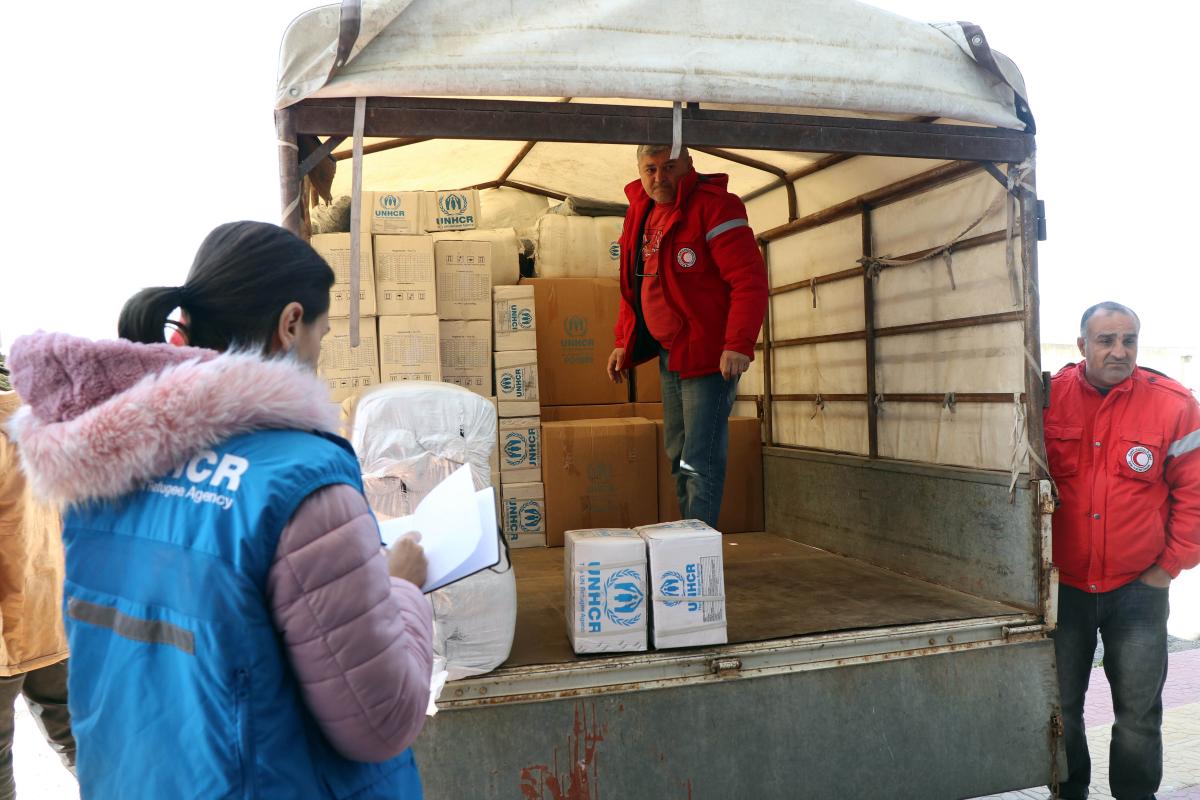 UNHCR core relief items are distributed near Tartous, Syria. © UNHCR
While the situation was already extremely fragile, the violent earthquake deteriorated it furthermore. Both Türkiye and Syria are facing severe weather conditions and below-average temperatures as winter is in full swing. In north-west Syria alone, 4.1 million people were already depending on lifesaving humanitarian assistance, which includes an estimated 2.9 million internally displaced people. The majority of them are women and children living under difficult conditions in tents or frail shelters. The earthquake is a hammer blow for Syria's displaced populations, in a country already devastated by 12 years of crisis. In Türkiye, the earthquakes impacted 11 provinces with a total population of 15 million people caught up in the disaster of whom 1.7 million are displaced Syrians.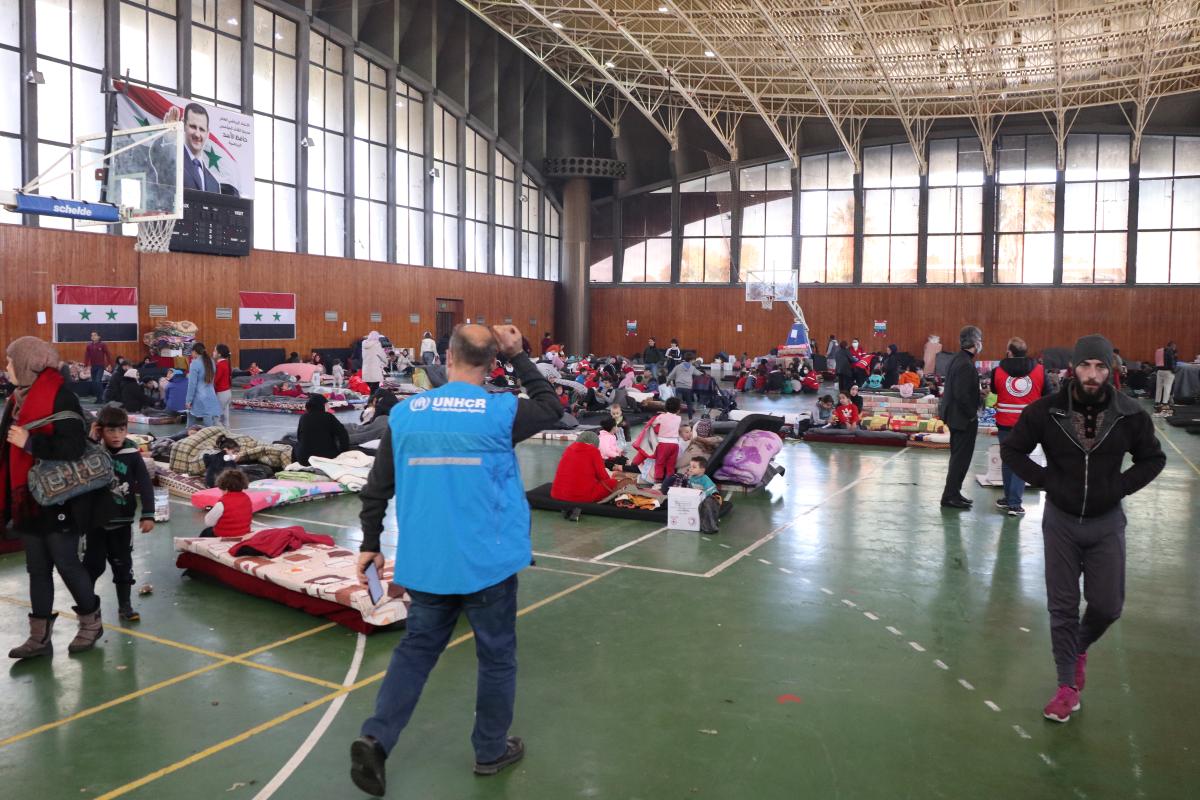 This sportshall hosts people who lost their houses near Latakia, Syria. © UNCHR
UNHCR's impact in the region so far  
UNHCR and humanitarian partners on the ground are working hard to reach all affected areas with much-needed assistance amidst challenging circumstances. Within 24 hours, emergency supplies were distributed to families affected by the earthquake as well as 25,700 core relief item (CRI) kits and other items such as winter jackets, winter clothing kits, thousands of hygiene kits, thermal blankets, mattresses, and other supplies that are much needed in the affected areas.
In terms of shelter, UNHCR staff in the field continue to be fully engaged in conducting needs assessments with other UN agencies to bring enough support. There are 19,900 tents available for deployment to affected areas with an addition of 19 large collective tents which can be shipped within 24 hours, used for reception areas or collective shelters if needed. UNHCR partners distributed close to 1,000 tents in north-west Syria within 48 hours of the earthquake while UNHCR has provided an additional 1,000 tents and 2,000 core relief item kits.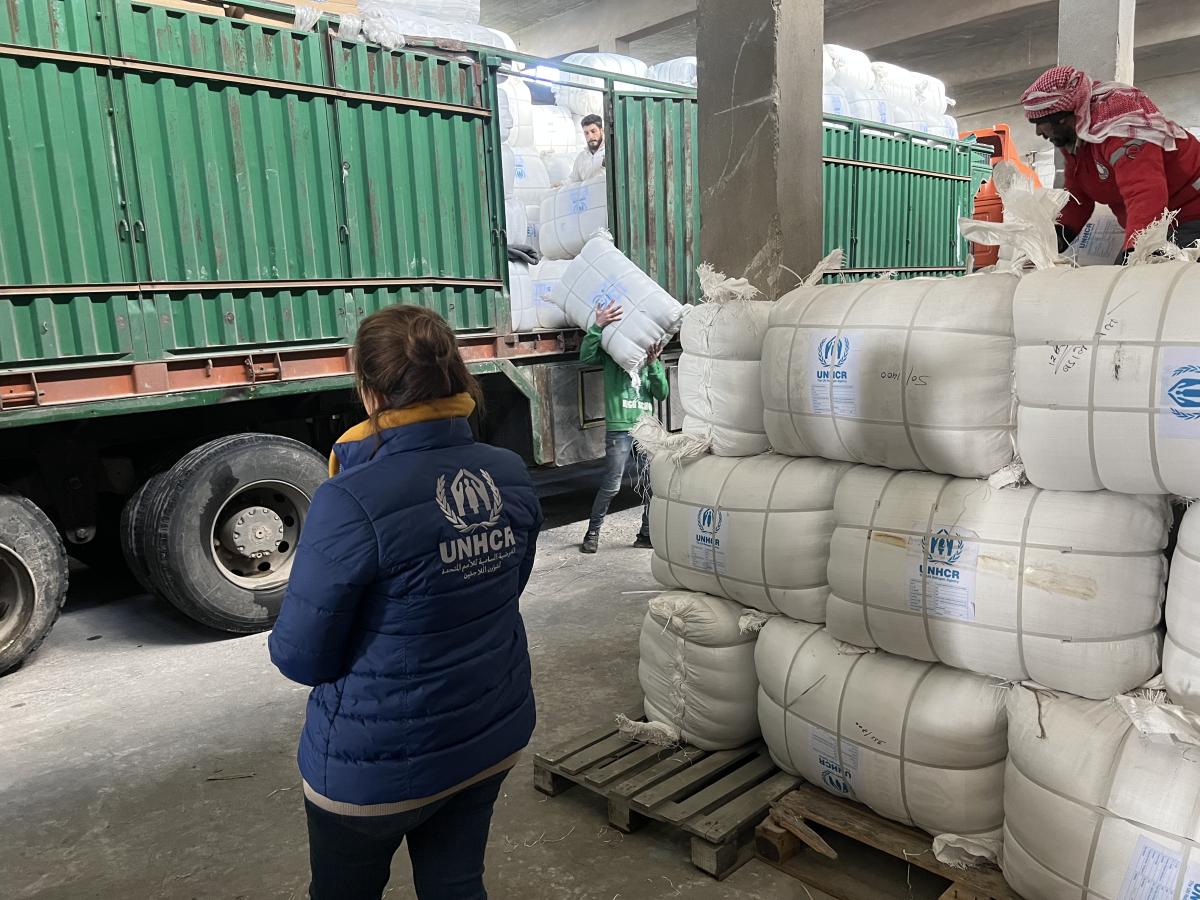 In Hama Governorate, dispatched core relief items arrive to be distributed. © UNHCR
UNHCR is also ensuring that protection considerations are reflected across all emergency shelter locations. Specific guidelines on the earthquake response were developed for staff engaged in child protection, prevention and response to gender-based violence, protection from sexual exploitation and abuse, support to persons with disabilities and elderly people, and psychosocial first aid. Since the beginning of the earthquake emergency response, UNHCR and partners have provided protection services to over 57,000 people in Aleppo alone, with mobile teams supporting people in rural areas as well.  
The immense damage inflicted on the region by the earthquake have put millions of people in very difficult situations. Millions of families have suffered from loss, of their home or of a loved one. Considering the weather conditions in the region, they are now struggling to stay warm and have lost all faith in a close return to normalcy, to the life that they had before. Thanks to our generous donors, UNHCR managed to provide families with lifesaving aid. However, your support remains crucial. 
You can help those who have lost everything by supporting the work of UNHCR and its partners on the ground: