Podcasts by and for refugees that tell stories of exile, courage and resilience.
While the word podcast only appeared in 2004, these digital audio broadcasts are now part of many people's daily lives. A survey conducted in Switzerland in 2020 demonstrated that a third of those questioned listen to podcasts at least once a month. Among the under-25s, three people out of five listen to them every month, and the trend is rising. They can be listened to almost anywhere - on the train, in the car or at home - and are always available either online or by download.  
Today, more and more humanitarian organisations are using this communication tool to inform about their activities and raise awareness. Switzerland for UNHCR presents a selection of podcasts from UNHCR and other organisations that will help you to get a better insight into the reality of refugees. Whether in crisis zones or in countries hosting refugees, these podcasts allow you to learn more about the challenges faced by refugees, and the support offered to people forced to flee around the world through UNHCR and other organisations.
1. Podcasts from UNHCR, the UN Refugee Agency:
Forced to Flee Podcast - UNHCR (English)
"Forced to Flee" is UNHCR's podcast that tells the extraordinary stories of people who have lived through some of the most tumultuous events of the past 70 years. Seven episodes revisit some of the major post-war emergencies that forced millions of people to leave their homes in search of safety and peace.  
UNHCR podcast in France (French)
The new UNHCR France podcast is entitled "On the Roads of Exile". Hosted by UNHCR France spokesperson Céline Schmitt, the various episodes feature different guests committed to the cause of refugees and forcibly displaced people in France and around the world. In the first two episodes, Jean-Nicolas Beuze, UNHCR representative in Yemen, and Jean-Paul Cavalieri, UNHCR Head of Mission in Libya, present their testimonies on the conflicts and humanitarian crises in these two countries.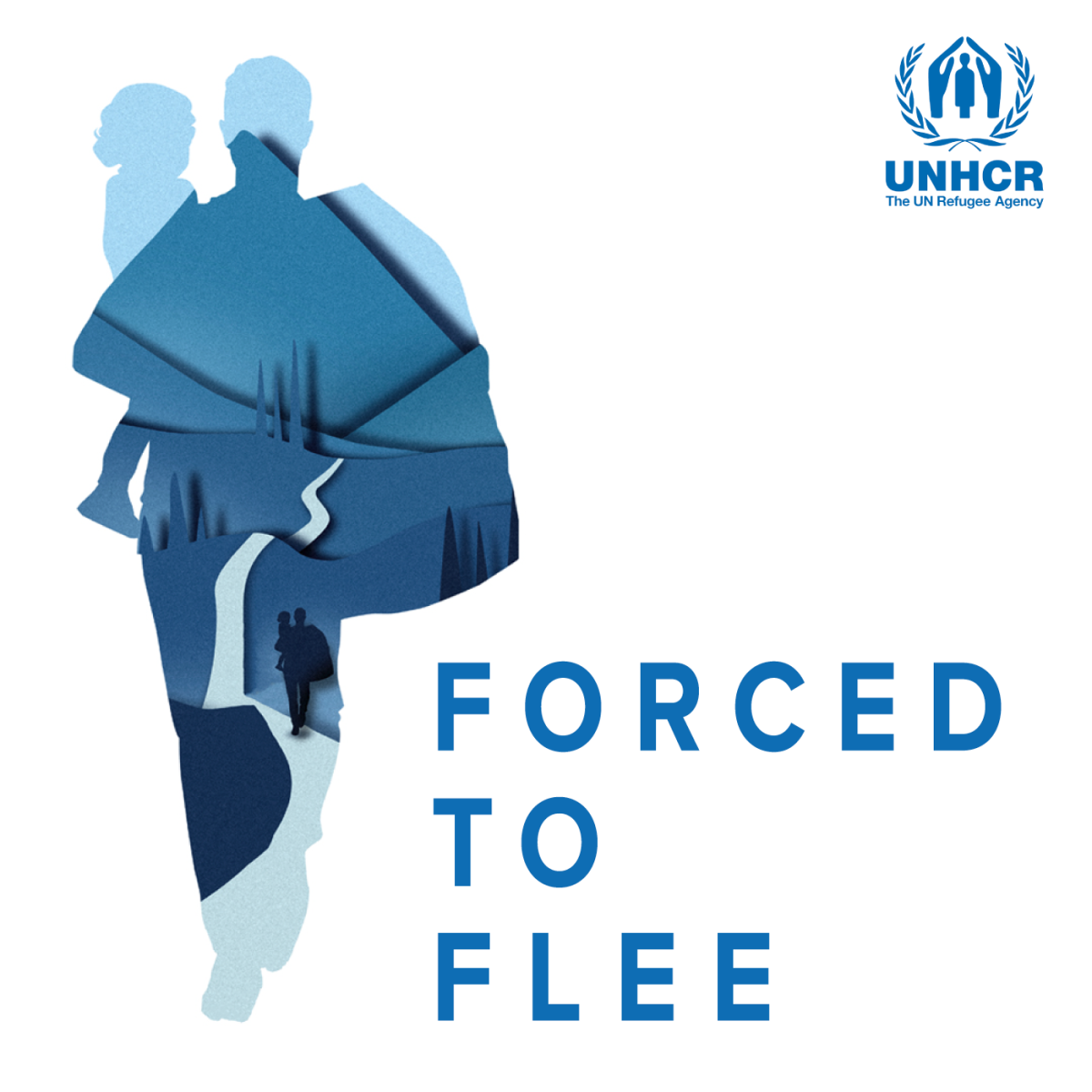 © UNHCR
The Podcast of UNO-Flüchtlingshilfe (German)

The podcast of UNO-Flüchtlingshilfe, UNHCR's national partner in Germany aims to make the complex topic of exile more understandable in all its aspects, such as the causes of flight, flight routes, asylum and integration in host countries. Peter Ruhenstroth-Bauer, Director General of UNO-Flüchtlinghilfe, and Svenja von Reuss, Social network Manager, present several episodes on these topics and give people who have fled their country the opportunity to share their stories and views.
Refugee Voices Stories (French and English)

"Refugee Voices" gives voice to people who have found the courage to share their journey of transformation, both physical and emotional. They have overcome their vulnerabilities and changed their beliefs about what they can achieve. The first episode, directed by Margot Mayoraz, features Sana from Afghanistan, who has been living in Switzerland for three years. "Refugee Voices is a programme for migrants and refugees who want to improve their self-confidence in order to better integrate into their new life here in Switzerland.  
"Voix d'exils": one year on, what has become of them? (French)

In 2020, InfoMigrants gave the floor to five people in a podcast entitled "Voix d'exils". Eric, Amadou, Awa, Alain and Issiaga told of their journeys on the dangerous road to exile. They all faced violence on their way and disillusionment when they arrived in Europe. One year later, some have obtained documentation in France and have integrated into the country, others are still experiencing difficulties. InfoMigrants takes stock one year later.  
The "Refugee Radio Show" in Cameroon is another project that raises awareness of the reality of refugees. ©UNHCR/Xavier Bourgois
Resettled (English)

NPR is an independent, non-profit media organisation founded with the mission of creating a better informed public. Every day, NPR connects with millions of Americans on the air, online and in person to explore current events and what it means to be human. In this six-part podcast series, NPR presents stories of refugees adjusting to their new lives in Virginia. These personal stories are woven together with helpful teaching moments about the resettlement process. 
The "Awake at Night" podcast launched by Melissa Fleming, former Head of Global Communications and UNHCR Spokesperson, is not exclusively about the refugee cause, but about the lives of people working in the humanitarian field. The podcast has been very successful and has even won a British Podcast Award. The first two seasons were published by UNHCR. The United Nations then took over production with the third season.