Last week, the 2023 Paris Blockchain Week conference brought together some of the biggest names in the blockchain industry. Starting on March 21, the three-day event turned out to be a focal point for crypto natives, with prominent industry players coming together to discuss and share their thoughts on the future of their ecosystem. More than 10,000 attendees and 400 speakers were expected both in person and online- and some UNHCR and Switzerland for UNHCR staff were on site. 
UNHCR awarded "Best Impact Project" for a pilot project helping people impacted by the war in Ukraine.  
During the event, UNHCR, the UN refugee won the award for "Best Impact Project Award" for a pilot project using blockchain technology to disburse cash to people impacted by the war in Ukraine. This award recognizes projects delivering significant social impact using blockchain technology and acknowledges UNHCR's commitment to exploring innovative solutions to assist refugees and forcibly displaced people.  
In December 2022, UNHCR, in collaboration with the Stellar Development Foundation (SDF), successfully conducted a pilot programme to distribute cash assistance to people displaced by the war in Ukraine in Circle Internet Financial's USD Coin (USDC) — a cryptocurrency pegged one-to-one with the US Dollar. This digital currency was transferred directly into the recipient's digital wallet, which can be accessed via a smartphone.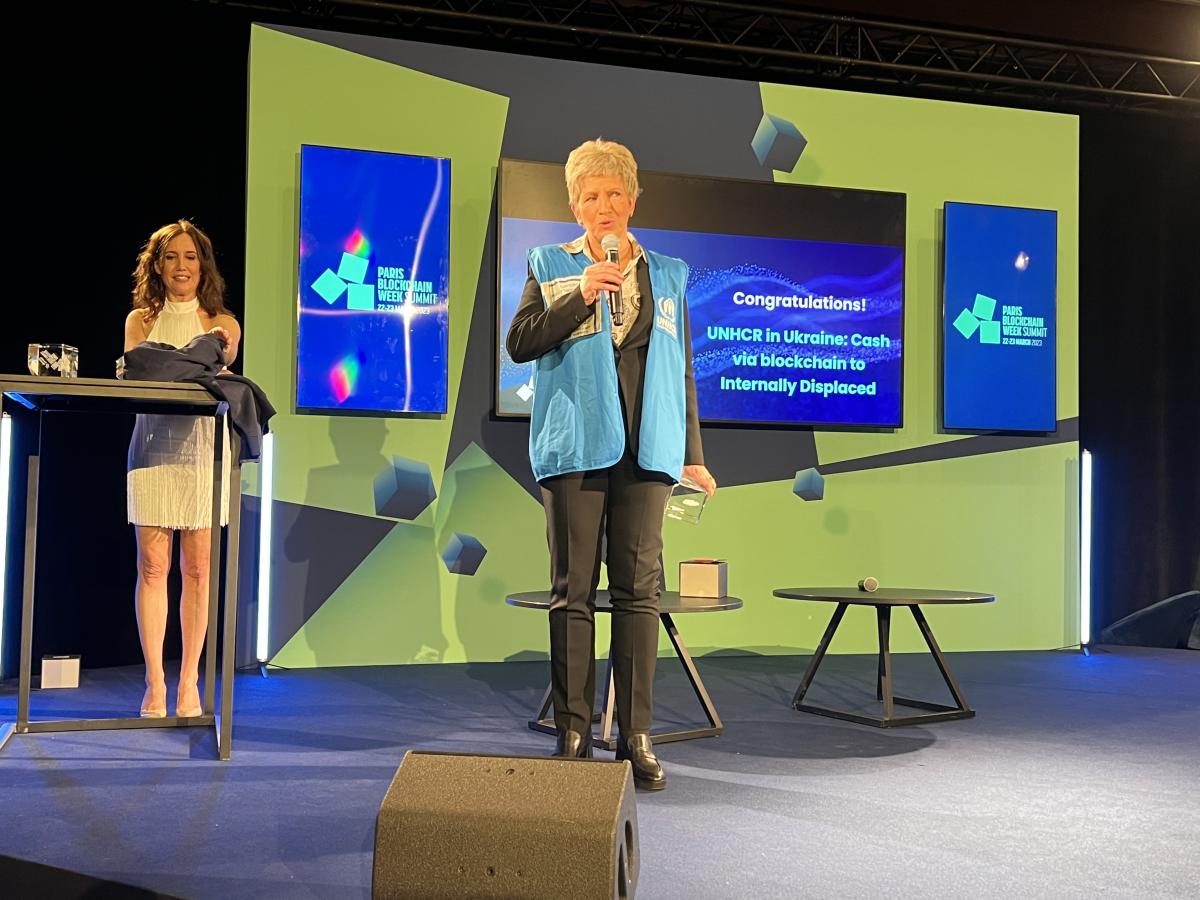 Carmen Hett, UNHCR treasurer accepting the award. ©Switzerland for UNHCR
This programme, designed to be easy to use for recipients, allows them to convert this assistance to cash, withdrawing their funds in dollars, euros, or local currency at any global MoneyGram location, or to transfer the amount to a personal bank account in whatever currency is most suitable. This support can then be used to cover basic needs like rent, food, medical care and heating during winter. It allows for funds to be transferred efficiently, immediately, and transparently to those who need them. 
"The tech sector has a crucial role to play in helping humanitarian agencies innovate to deliver better aid to those people forced to flee. It is crucial to invest further to expand digital literacy and connectivity among displaced populations and to adapt solutions to the needs of the most vulnerable and the context in which they will be implemented." 
Kelly T. Clements, UNHCR's Deputy High Commissioner. 
Fundraising with NFTs 
Switzerland for UNHCR was also present at the flagship event to present its fundraising projects showing another use-case on how to use blockchain technology in support of people forced to flee. Following the launch of its stake pool the unique opportunity of having thousands of participants familiar with blockchain technology gave birth to a successful collaboration between UNHCR, NMKR and TURF. Indeed,  two exclusive collections of  POAP (Proof Of Attendance and Protocol) NFTs were created for the occasion, and people attending the event were able to purchase them and display them as a badge of recognition for supporting people forced to flee.
Two exclusive collections minted in support of UNHCR's relief operations :  
Chronically underfunded crises 
When purchasing this collection's NFTs, the funds were delegated to [WRFGS], a stake pool of which 100% of the rewards go to UNHCR, the UN Refugee Agency. This longer-term and sustainable option will help UNHCR deliver lifesaving assistance to, for example, the most forgotten crises.   
Ukraine emergency  
For the Ukraine emergency, the funds received from the purchases will be converted into fiat and transferred directly to UNHCR operations in Ukraine, and later used to respond on the ground in Ukraine and in refugee-hosting countries.  
Besides being an innovative way to fundraise, these NFTs also help raise awareness on forced displacement among a public that might be less familiar with this issue.  
Interested in getting your first NFT? The good news is that you can still mint your NFT in only 5 simple steps for a limited period of time.