Warmly dressed for the winter cold, the players of Sotto lo Stesso Sole, a refugee football team based in Lugano, arrive one by one on the football field for training, as they do every week. Illuminated by the floodlights, this refugee team begins its warm-up in good spirits with a few laps around the field and alternating free kicks in a Lugano sports centre. But what seems like a typical Monday night for the youngsters in the team takes an unexpected turn with a visit from a football legend.
Cesc Fàbregas joins the training session
As the team's coach talks to the players, the first distracted glances are drawn to a figure slowly making its way across the pitch towards the group. A few moments and whispers later, all the players in the team, their eyes in disbelief, see Cesc Fàbregas, former Spanish world champion and ex-player of FC Barcelona, Chelsea and Arsenal, walking towards them.  
For many of the young refugees, the sight of one of their childhood idols walking on the same field as them is emotional. Football, Cesc stresses when addressing the group, is more than a sport. It has a therapeutic power: 
I know that in difficult moments, sport, being together and having fun is a great help.
But Fàbregas, now a player with Italian side FC Como, didn't just come to greet the team - he challenged the players to recreate with him the goal that won him the World Cup with Spain in 2010.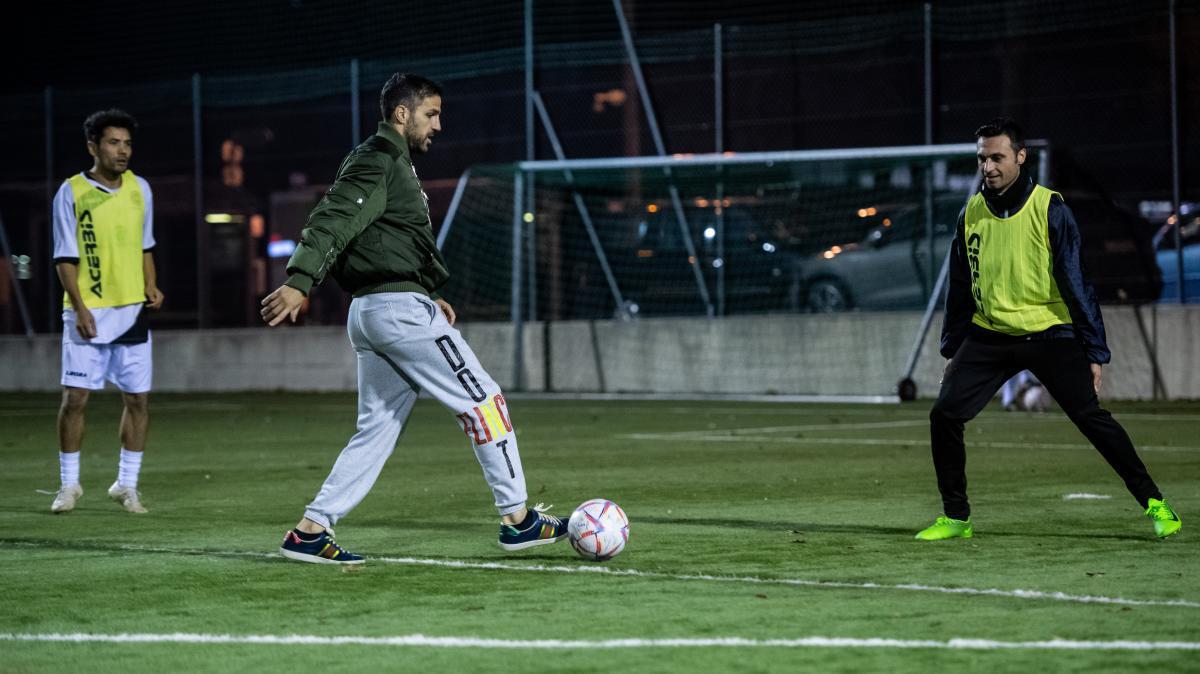 Cesc Fàbregas joins the training session of Sotto lo Stesso Sole. ©Gabriele Putzu
After a few photos with the team, everyone goes into action. After the first attempt hit the post, and the second the crossbar, the winning sequence of play was recreated to perfection.  
"You did it even better than we did," Fàbregas laughed. Receiving a visit from this player is not only the fulfilment of a childhood dream for many of these amateur footballers, it is also the recognition of their existence and their rights when they often feel left out.  
Football as a vehicle for integration  
I was born and lived in Aleppo. When the conflict broke out, I had to flee because the situation there was too dangerous,
says Marshall, a refugee from Syria. Like him, all the players of Sotto lo Stesso Sole had to flee not by choice, but to save their lives. The refugee team they play for, a project launched by SOS Ticino, allows them to live better with their traumas and to share moments together.   
Sport is very important to me, because it helps me to live. In the difficult moments of my life, in the sad moments, I find a joy of living through dance or football. 
Including refugees in all daily activities, such as sport, allows them to regain a sense of normality in their lives, to build links with local communities, and to feel integrated into their host society. It is small initiatives like these that can often make a big difference to the lives of those who have had to leave everything behind.