In June 2021, to mark World Refugee Day, we launched a new series of articles: "Portraits of refugees". With these articles, we want to give a voice to refugees, so that they can tell us about their experiences, their journey, and their relationship with Switzerland. For the third article in our series, we met Ana Maria Angarita, a Colombian refugee who fled to the USA in 2001. She then came to Geneva in 2009 to pursue her career in international cooperation. A few years later, she moved to Zurich where in 2017 she became a co-founder of the non-profit association Capacity, an entrepreneurship talent and startup incubator for people with a refugee or migrant background.
Refugee Portraits : Ana Maria Angarita
Ana Maria Angarita, tell us about you.
I am originally from Colombia, and I was a refugee in the USA. Basically, my family and I had to experience firsthand the consequences of a civil war that lasted over 50 years and whose aftermath continues to affect my country of origin. This conflict and the violence that accompanied it changed our life overnight and forever. When I was just 17 years old, in 2001, we were forced to flee Colombia and sought asylum in the USA. In 2009, life brought me to Switzerland, where I first lived in Geneva and now Zurich.
I consider myself an eternal learner, a people person, a music maniac: I am curious about the world and the diversity around me. Today, I am married to an Italian and we have an extended family which is a melting pot of nationalities, from Colombia, Italy, Spain, Brazil, the United States and England, and I love this multicultural diversity.
My vocation of service led me to pursue a career in international cooperation. In my trajectory, I successfully built cross-sectoral strategic partnerships and networks, and capacity-building in sectors such as migration, employment, children's rights, and health.
How did your journey lead you to Switzerland ?
In the USA, I was developing my career in international cooperation in Washington D.C. During my time there, I did my bachelor's degree and had the chance to work for a couple of organizations, the Organization of American States among others. This led me to Geneva where I was able to push on my master's degree in international affairs at the Graduate Institute before working with the International Organization of Employers and the Union for International Cancer Control.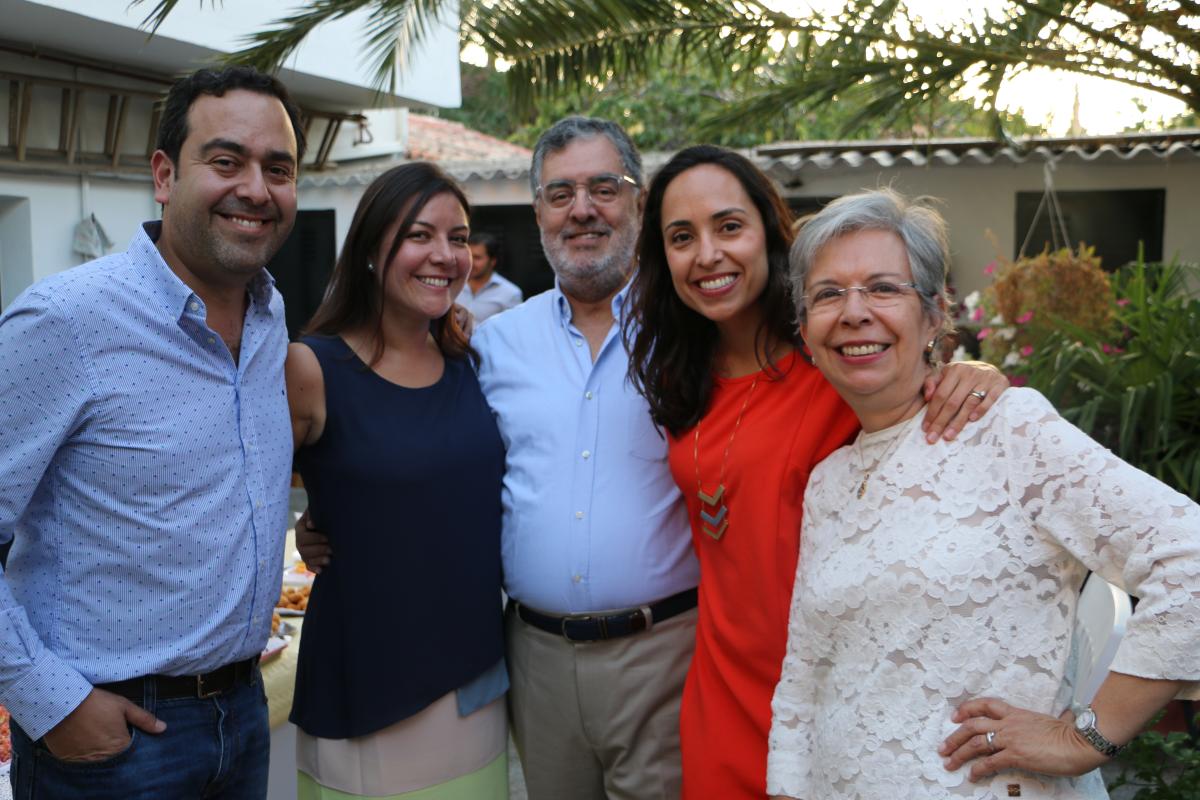 Ana Maria pictured together with her family. In 2001, they had to flee Colombia to reach safety. ©Ana Maria Angarita
What was your first impression of Switzerland ?
Arriving here from the US, there were plenty of differences in terms of landscapes and how things worked. But it wasn't as radical as it might have been moving directly from Colombia. I still remember the day I arrived in Geneva, which was a Sunday. Everything was closed, but I was impressed by the beautiful sceneries. 
This might sound funny but coming from the US I really liked the taste of the food. In Switzerland, a tomato tasted like an actual tomato, and I appreciated how everything worked and was well organized. It felt like I reconnected to my Colombian roots, having the chance to live again in a place surrounded by mountains and by a rich nature. Of course, the transition wasn't easy, because it brought back difficult memories that I experienced with my family when we first left Colombia. But this time it was my choice, I was an adult, I had a husband, and I wanted to figure things out by myself.
The thing that I valued the most when I moved to Switzerland was feeling safe. This is a basic right that I experienced when I moved to the US, but here it is at a whole different level. Being able to walk down the street without looking over your shoulder and to just feel safe is such a privilege. With time, I also learnt to understand how the country works, how different the French and German-speaking regions can be, not only in terms of language, but also in terms of norms, opportunities, and culture. I am forever grateful for the opportunities I found in this country and the impact it has had in my life.
You are a co-founder of Capacity in Zürich. Can you tell us a bit more about your work and what it means to you ?
Capacity is a non-profit association that fosters the talent of people with refugee and migrant background in Switzerland. The goal is to facilitate the socio-economic integration of refugees and migrants. The organization was born in 2015, a few months before the refugee crisis hit Europe. It aimed at addressing the long-term unemployment of refugees and migrants and its effects, mainly in the Zurich area although in the last few years we've worked with people from all over the country. Through our work and our own experience, we realize that some of the hurdles that refugees and migrants face include not having their diplomas or certificates recognized, especially for regulated fields like medicine or law. Other issues are the language barriers, the lack of network, and often a misconception of the country of origin.

These are some of the challenges preventing the start of a new and independent life in Switzerland. When I moved to Zurich, I experienced this myself, because it took me quite some time to find a job. In my case, it was mainly because of the lack of a network and the language barrier.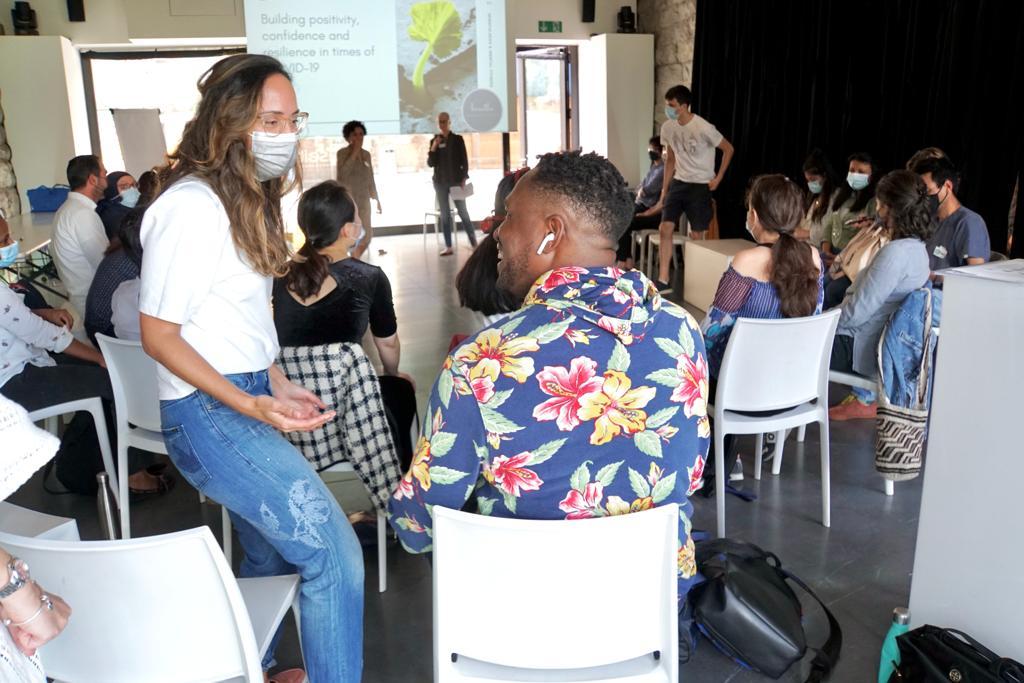 Ana Maria is a co-founder of Capacity. Their goal is the socio-economic integration of refugees and migrants. © Capacity Zurich
With Capacity, we identified entrepreneurship as an excellent tool to help people getting back on their feet and becoming economically independent, and as a chance for them to start a new life. The projects range from sustainable fashion to social and cultural initiatives, technology, or education. 
Right now, Capacity is recruiting for the new programme starting in March 2022. It is an excellent way to strengthen and acquire new skills, to grow your network, to learn how to develop and launch a business in Switzerland, but also to understand how Switzerland works. 
For me, Capacity's mission is very personal and close to my heart. I feel that this organization provides the kind of technical and human support I wish my parents would have received when we moved to the US. We became entrepreneurs with very little guidance and support. We learnt to navigate our new home by ourselves and to embrace our journey and the uncertainty around it. My family and I learned to think like a football team. We learned to pass the ball to each other and play our part so that the person who needed it the most could 'score' a goal. The circumstances pushed us to become resourceful, to think out of the box, to be optimistic during difficult times and ultimately to become resilient. Today, I understand the hurdles that refugees or migrants go through when they move to a new country, and I feel it is a duty for me to help in any way I can.

Are there any differences between being a refugee in the US and in Switzerland ?
Based on my personal experiences and from what I have seen working with Capacity, I think that both realities are equally difficult, but different. 
When my family sought asylum in the US in 2001, there was not a single agency at our disposal to provide any sort of information and to explain what to do, and there were no websites with clear information. It was challenging! A few months after our arrival in Miami, we started to gather information through the local catholic church in our neighborhood and a small NGO. Eventually, we got connected to a local governmental agency that gave us an overview of the possible avenues for us. We benefited from paid English classes taught by immigrants. For me it was fundamental that these classes were mostly taught by Cubans. They understood what we were going through, and this made learning the language easier. But other than that, we were on our own, and there wasn't a community supporting us. At times, we somehow felt invisible. 
Despite initial hardships, we were lucky because our asylum got approved after a little over a year, and we received our social security and work permits, which gave us full control over our lives. Nowadays, no matter the country, I feel that the asylum process has become overall more challenging, or more complex. 
I am close to many refugees in the Zurich area, through my work at Capacity. The process is better structured, but the barriers are very similar: the language barrier, the lack of a network, understanding the culture. Living in refugee shelters with people from different countries and cultures, all experiencing strong personal struggles, can also add a certain emotional pressure. Our work with Capacity has shown that highly qualified professionals often struggle because they do lack the appropriate support and we also contribute to providing a much-needed community where they feel they belong and can get access to new opportunities.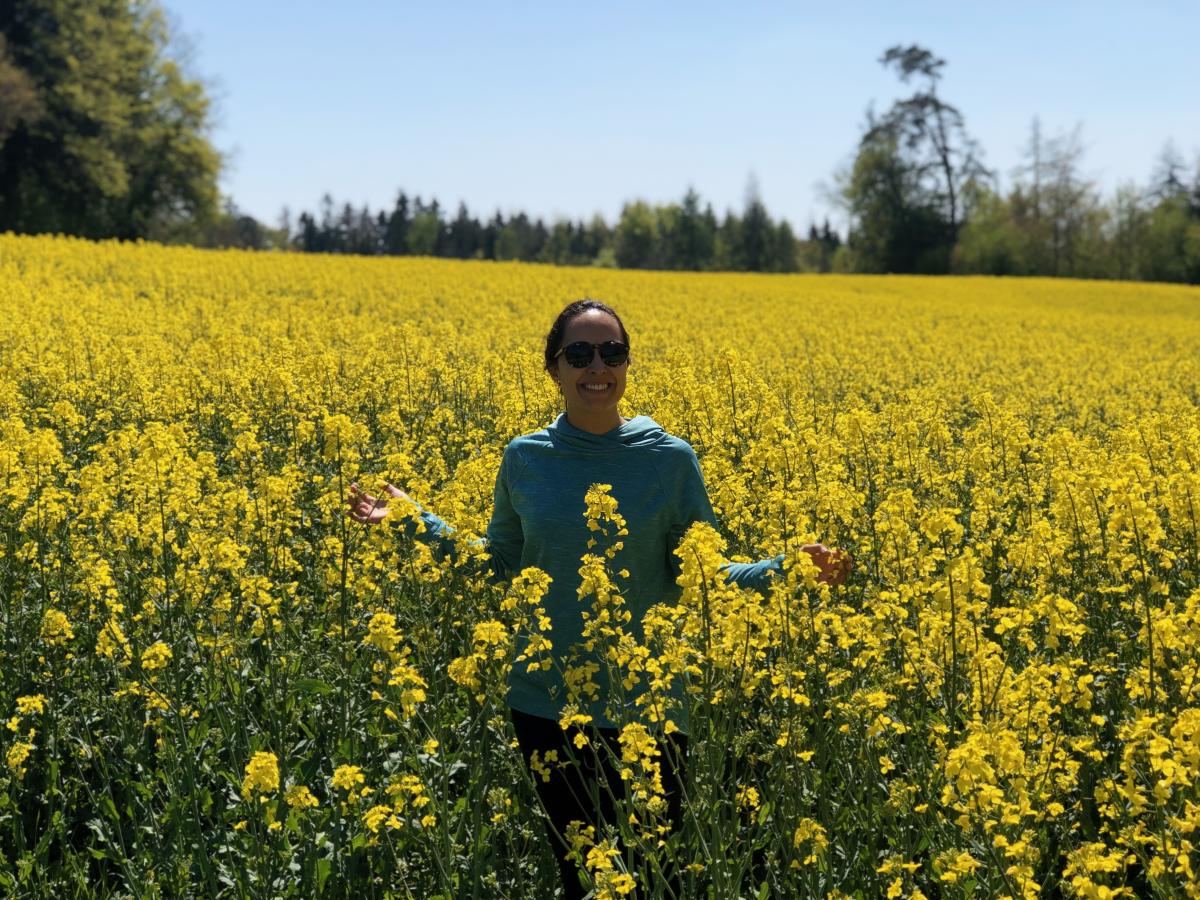 Being surrounded by nature and mountains is a way to reconnect to her colombian roots. © Ana Maria Angarita
According to you, what is the perception of refugees in Switzerland ?
There are different opinions. Through my work I have seen that there is an increasing awareness of the need to support the lives of people seeking asylum, and there are a lot of great initiatives across the country to support the integration of refugees. We are also seeing that companies are increasingly taking a stand to support refugee talent and adapting even their workplaces to welcome them. Switzerland is a country of humanitarian tradition, and most people understand the necessity to help people in need. When the recent humanitarian crisis broke out in Afghanistan, there was an online petition calling for the immediate acceptance of at least 5,000 Afghans in Switzerland. That shows that there are people who care about what is happening elsewhere. 
But I still think that we need a paradigm shift in Switzerland about how migrants and refugees are perceived. People living here need to continue to be sensitized so that they do not feel threatened by newcomers who, in many cases, did not choose to come here. They didn't have a choice as it was for them the only way to survive. We all have the right to live a safe and happy life. Migrants and refugees are people with a rich cultural background, they have a lot of talent and new ideas, and they can be an asset to the society.

If you could send a message to the entire Swiss population, what would you tell them ?
As a former refugee, I would tell them to be open to refugees and – if they are able to – help them strive and invest in their talent. There is still some limited understanding about refugees and what their lives are like. If people are interested in learning more about the challenges refugees face, they should engage or even volunteer in initiatives supporting them. I think that having a direct interaction with refugees is the most powerful way to stay open and see the value of working with them.
My story is one of millions of stories of people who didn't choose to leave their home and whose limits were tested. People, whose dreams were broken but who managed to find new ones. If locals are willing to help, they will have the opportunity to contribute to the happiness of strong people with the power to reinvent themselves, adapt to difficult situations, and who are very proud of their origins.