One of the goals behind the creation of the Swiss foundation for UNHCR, Switzerland for UNHCR, is to raise awareness in Switzerland about uprooted and displaced people around the world. A few months ago, the foundation celebrated its one-year anniversary, and while the current state of the world does not exactly warrant festivities, we did want to mark the occasion by launching a series of articles, Standing with Refugees, showcasing locals who support refugees. For our seventh article, we met with Christina Gräni, Head of Public Relations at Powercoders, an organization which offers refugees in Switzerland training courses in computer science and information technology, in order to facilitate their integration into the labour market.

At the beginning of the year, our foundation was fortunate enough to welcome one of their trainees, so we were able to appreciate the great work and the quality teaching offered by Powercoders. Our former intern currently works full-time in the digital communication department of an international company.
Powercoders
Tell us about Powercoders.

Christina Gräni: Powercoders is a non-profit organization whose goal is to help refugees and migrants develop technical skills in order to integrate the Swiss IT labour market. 

What approach do you use?
CG: Our programme follows four steps:

First of all, there is the recruitment process, which is quite time-consuming. IT is such a specific field that it is crucial to recruit the right profiles. We are looking for people who are analytical thinkers, who understand abstract concepts, and who have a certain predisposition to technology. We take the time to identify the people we believe have the potential to thrive in that area. Our programme is open to refugees in Switzerland, but we save some spots for migrants, who have a different legal status but whose integration in the labour market is just as important, too. Unfortunately, people who are in the process of applying for asylum cannot be considered; our beneficiaries must have a work permit as the ultimate objective of the programme is employment.

The selected participants, approximately 40 of them, are invited to attend our Bootcamp: 3 very intense months of learning during which they build up the necessary skills based on their levels. Some participants have already worked in the IT sector in their home country, and are already very comfortable with the requirements. Others are beginners, but eager to learn. In the end, mutual support is always at work: participants motivate each other, regardless of where they each stand.

The third phase of our programme is the work placement, which lasts 6 to 12 months. Powercoders pairs each participant with a coach, a volunteer who knows the Swiss market well and who will oversee the trainee acting as the go-between for Powercoders and the company.

As we strive to achieve job placement, once the internship is over, we check to see if the companies are able to offer a job to their trainees. Sometimes, they are offered junior positions, or apprenticeships, as their age is also factored in. If the participants aren't able to stay at the company, they come back to us, and we do our best to help them find other job opportunities in IT. No one is left behind!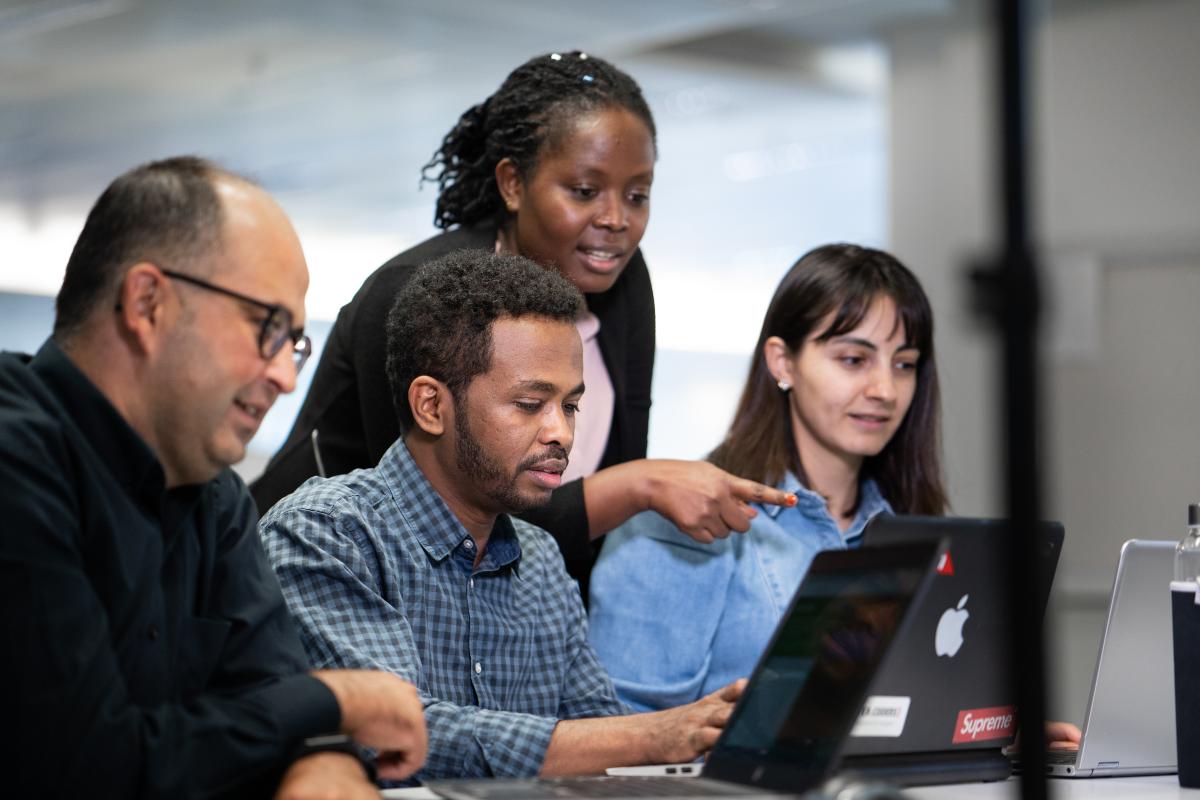 The bootcamp is an intensive phase rich in experiences for the participants. ©Powercoders
How do you approach partnerships? Who are your partners?

CG: The programme has now been running for 5 years. At the beginning, we had difficulties finding companies interested in joining our programme. There were a few, but demand was higher than supply. With time, and with the excellent results produced by our first groups, companies started realising that our programme had merit. Through word of mouth, it has become easier to find new partners. In terms of size, they range from start-ups to large multinationals; some can take 3 or 4 of our interns at a time, and smaller ones will take only one. 

Companies participate mainly because they need new talents, especially in this sector. At a time when our lives are increasingly digital, there are too few IT professionals available. But they also participate as a means to fulfil their social responsibility. Many companies would like to do more in this area; they want to engage differently. Not only is supporting refugees important, but these refugees are highly-motivated, they bring with them a certain know-how, and many experiences that are larger than the job itself. More often than not, the interns turn out to be a great asset for the company and its employees.
Why did you choose to get involved ?

CG: Because I think it is a very practical way to solve a problem!

Personally, I worked in a completely different field before Powercoders. I was in graphic arts and design. I took time to think about what I was doing and decided to change careers radically. I wanted to help refugees, because it was clear to me that, in Switzerland, they were very vulnerable, and that there were practical ways we could help them and improve their lives. Improving someone's employability is a very effective way to do that. Moreover, social integration is bound to follow suit. I immediately felt attracted to the Powercoders project.

Everyone in our team has a story. The refugees have gone through so much and come with so many experiences that every one is really motivated to give the programme their best.

What are your future plans?

CG: Last year, we launched a pilot project, which is about to become our second permanent programme. It is called "Futurecoders", and is built for teenagers, aged 13 and 17. It offers classes in programming, web development and web design. We want to spark the interest of teenagers, to give them a chance to find out what it is all about and to increase their chances in their future professional life, where digital skills will be crucial assets. The programme is, once again, open to refugee and migrant families in Switzerland, and the pilot has already generated a lot of interest. Today, the programme is fully funded and will become a permanent fixture in our portfolio.

Each year, we can only accept 40 of the around 400 who apply. But we would love to make it more widely accessible, especially to people who do not have the same level of skills.

And we are in the process of developing our "Remotecoders" project. We will work with local organisations in the Middle East, who recruit refugees with IT-potential, but who are unable to come to Switzerland. Our Middle-Eastern partners will train them on site, and we will coordinate with Swiss companies who allow for remote internships. We are still in the pilot stage, but are hopeful that it will soon become our fourth item.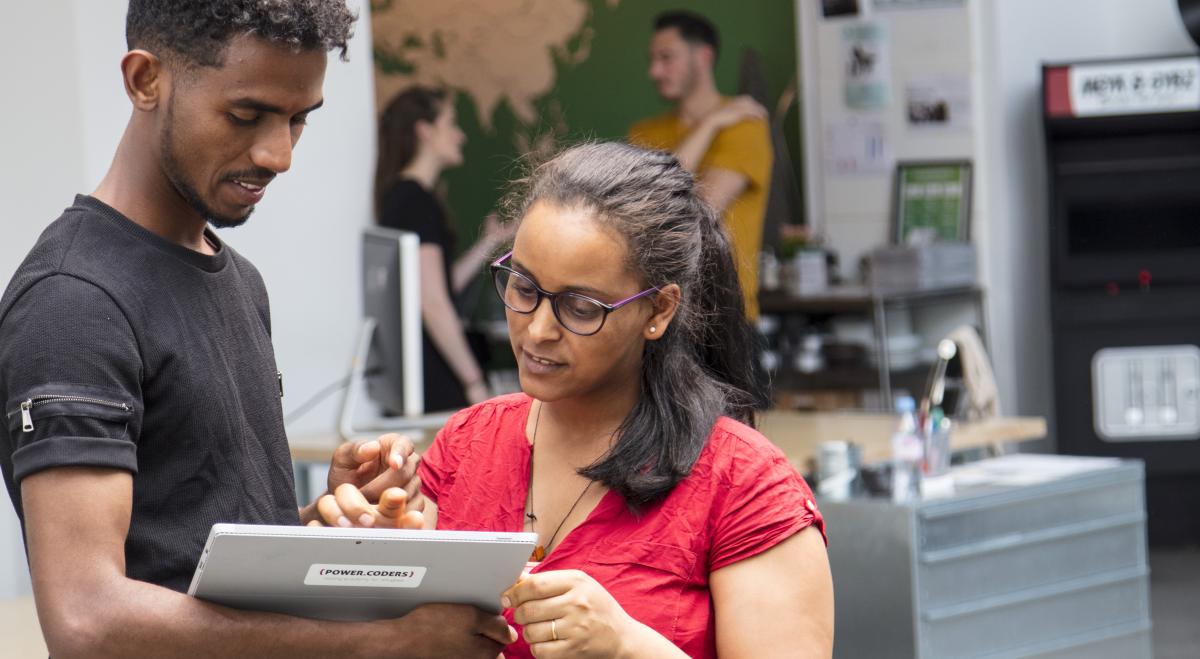 The Powercoders programme aims for a specific outcome: employment. ©Powercoders
Any particularly striking memory?

CG: When one of our participants receives their first work contract, it is truly a magical moment. Their reaction is worth all the effort we put into this work. Many cry with joy, and most can't hide their happiness. Emotions run high every time. Every single person will say that the experience has profoundly changed them and their family. For many, a job finally means no longer needing social aid, which is often their first wish. These are very touching moments.

I am always impressed with our participants; their determination is truly inspiring. They want to succeed at all costs, and put themselves through the wringer to do it. Every time I see it, even if it's every day, it humbles me. I try to communicate the commitment I see in them to the companies we work with. They know that they are making a long-term investment, and that the people they are recruiting are highly motivated and will bring a lot to the company.

What advice would you give to people who would like to get involved but don't know where to start?

CG: At Powercoders, we have a great network of volunteers, job coaches, and IT professionals - we know that we owe the success of our programme largely to them! Nothing would be possible without their contribution.

On the Internet, in a matter of seconds, you can find out about lots of different ways to get involved close to home. There is no shortage of initiatives or projects! We are not talking about volunteering all of your free time, but imagine if each person did just one hour of volunteering per month... The results would be phenomenal! 

Many people participate actively in the life of their family, their football club, their school – and these are all extremely important things. But I truly wish that people would get involved in a way that helps those whose needs are the greatest, like refugees. 

It's true that many people are afraid, it's hard to commit to the unfamiliar when you don't know what you're stepping into. Switzerland's volunteering rate is already quite high, but I believe we can do even better!