Eight years. That's how long the crisis in Yemen has already lasted, a civil war that has forced more than 4 million people to move within the country. A devastating crisis, which has destroyed health services and food supplies in the country. A situation that continues to deteriorate, making Yemen the largest humanitarian crisis in the world today with 66% of the country's population dependent on humanitarian aid. 
A conflict with multiple collateral effects   
In one of the poorest countries in the Middle East, the civil war that began in 2014 has only aggravated a generalized situation of extreme poverty and insecurity. The civilian population is the most affected by this crisis, with two out of three Yemenis depending on humanitarian aid: 20 million people.   
This armed conflict has brought in its wake multiple crises that affect all aspects of people's lives: almost total lack of access to health care with the destruction of health services, a crying lack of food, and a large number of destroyed homes. Deprived, without shelter or food, more than 4 million people have been forced to flee their homes and live in desperate conditions. Unable to meet their basic needs, they are extremely vulnerable and in need of emergency assistance.   
In the face of a conflict that shows no sign of ending, lasting solutions must be found. But to do this, continuing to talk about these less talked about crises is essential, as Filippo Grandi, UN High Commissioner for Refugees, explained already in 2018:  
There is a direct link between media attention and funds allocated to humanitarian assistance. Political leaders must step up efforts and take responsibility for addressing today's forgotten crises.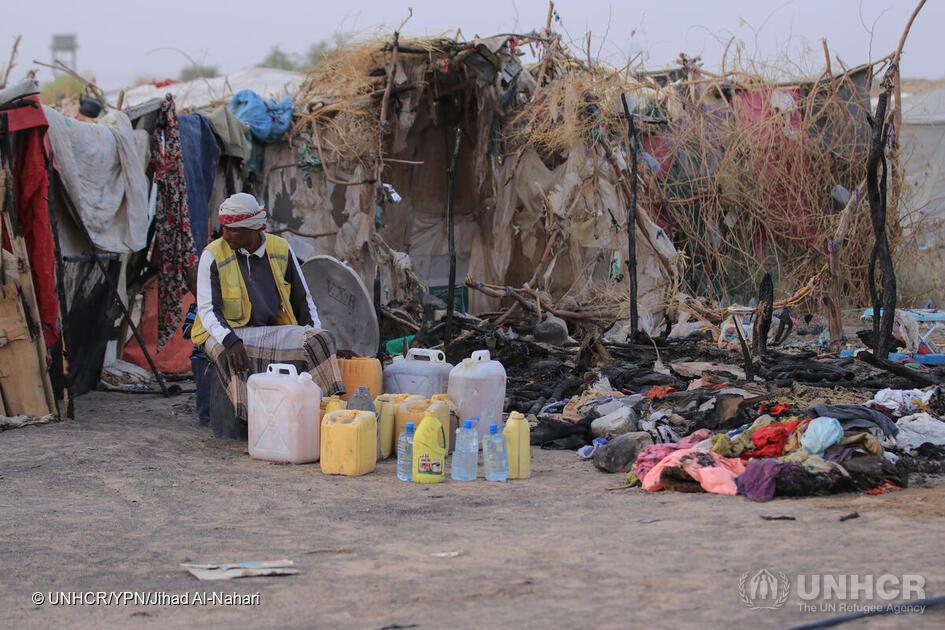 Marib governorate – a region that is already hosting a quarter of Yemen's four million internally displaced people
Growing numbers of internally displaced people living in appalling conditions  
In 2021, bombing, fighting and intense air strikes have forced more than 20,000 people to move to the Marib governorate. A region that already hosts a quarter of the four million internally displaced people in Yemen, in appalling and inhumane conditions.   
 
The shelters, the vast majority of which offer neither drinking water, nor latrines, nor electricity, are saturated, hosting a total of nearly 190,000 people, 80% of whom are women and children.    
Due to the extremely dangerous situation on site and the complicated delivery of vital aid, humanitarian partners can only provide very limited resources. Many families have been forced to build makeshift shelters. These shelters are damaged or destroyed several times a year by floods, further accentuating the immense precariousness of these displaced populations.   
Despite the difficulties encountered in this context, UNHCR provides aid materials that are transported and distributed to people in need throughout the 20 governorates affected by the conflict. The organization supports health facilities that provide care to refugees, asylum seekers and Yemenis affected by the violence. Finally, UNHCR is working with the Society for Humanitarian Solidarity (SHS) to provide basic household items, legal aid and psychosocial support in seven IDP settlements in the Sirwah district of Marib, which are home to around 20,000 people. Money is also being given in the form of rental assistance grants to more than 2,800 families as part of a plan to help some 6,000 families facing eviction.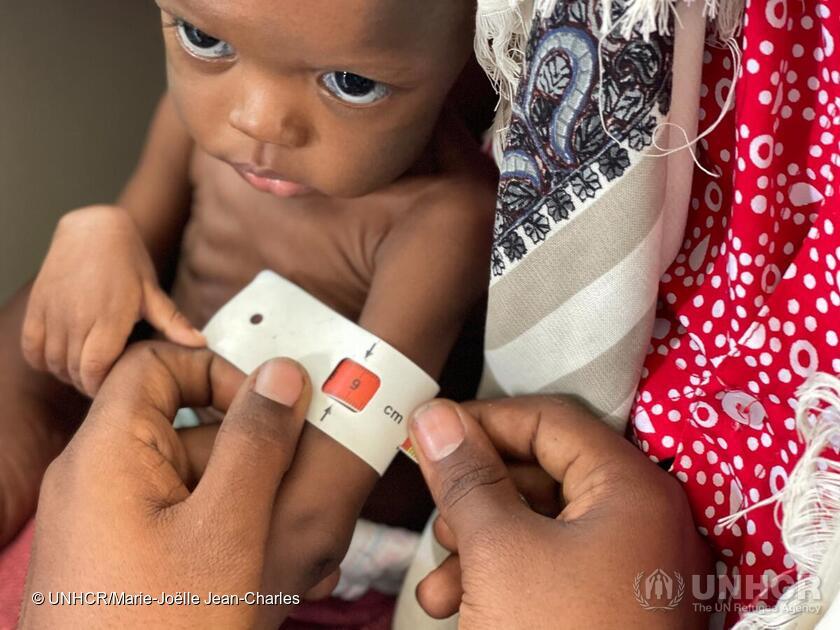 The threat of mass starvation  
The risk of large-scale famine in the country has never been more acute. Tens of thousands of people are suffering from hunger, and another 5 million are facing starvation.   

In this context, displaced families are four times more at risk of starvation than the rest of the Yemeni population. Among them, more than 3 million pregnant or breastfeeding women and children under 5 are acutely malnourished. This rate of child malnutrition is the highest in the world.   
Today, the World Food Program estimates that 19 million people will be facing food insecurity in Yemen by December 2022.   
The solutions that have been put in place (support to populations through emergency food aid) must be expanded and sustained very quickly so that every Yemeni can feed him- and herself. 
Continue to bring aid and highlight this crisis
In 2021, the UNHCR Nansen Award* was given to the NGO Jeel Albena, in recognition of the organization's dedication, bravery and concrete actions to help Yemenis displaced by the conflict. Since the beginning of the conflict, the NGO has been on the ground, providing emergency shelter, life-saving services and hope to thousands of internally displaced people. To date, Jeel Albena has helped more than 18,000 Yemenis.
We have stayed in Yemen during all emergencies and helped people through intense fighting, floods, cholera and now an outbreak of COVID-19
said Ameen Jubran, head and co-founder of Jeel Albena at the award presentation.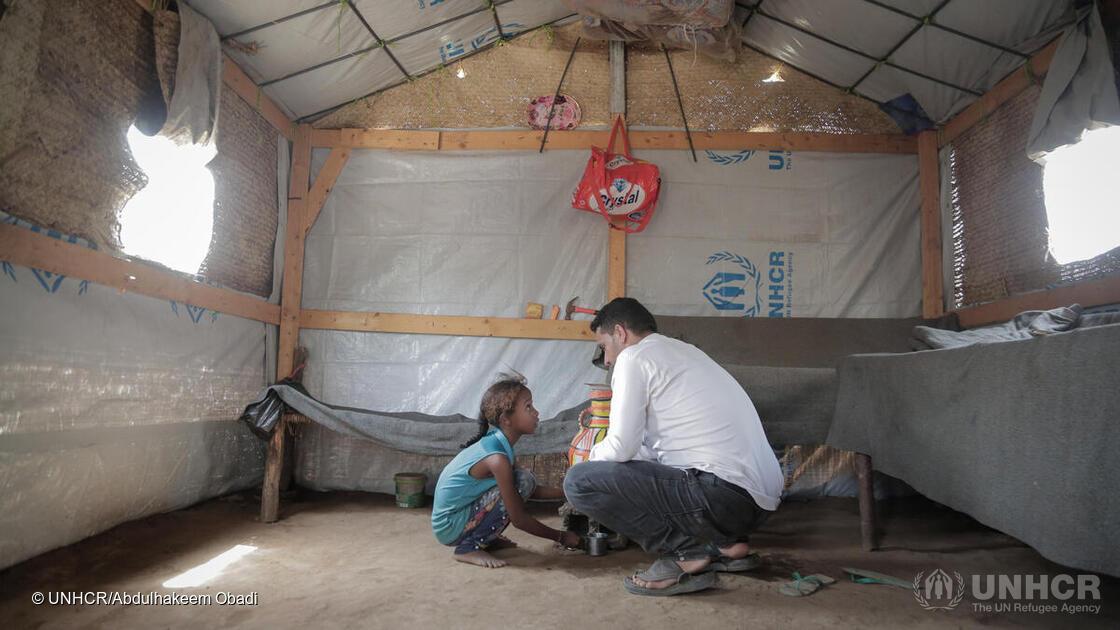 Ameen Jubran, head and co-founder of Jeel Albena
Making visible the exceptional work done by NGOs and other actors on the ground will allow solidarity to continue to support Yemen's displaced and fleeing populations.  
Ending the conflict is the only way to stop the forced displacement and suffering of the Yemeni people. UNHCR reiterates its call on all parties to the conflict to take the necessary measures to protect civilians and public infrastructure from the impact of the conflict, and to provide safe passage for civilians fleeing conflict areas.
 
* The Nansen Refugee Award was established in 1954 in honor of Fridtjof Nansen, a Norwegian polar explorer and scientist who was also the first League of Nations High Commissioner for Refugees. The Nansen Refugee Award is presented in Geneva, where the United Nations Refugee Agency is located.