In recent years, digital tools, technology and innovation have progressively transformed sectors and industries, permeating the strategies of many organizations, private companies and academic institutions. The humanitarian world, international and non-governmental organizations alike, has not been spared by this foundational phenomenon. The COVID-19 pandemic has even accelerated the movement, showcasing how innovation and creativity can be formidable levers and precious resources to overcome problems, and to make humanitarian responses more efficient. 
So, what happens when innovation supports humanitarian responses? Let's find out.
A shift which has been welcomed by UNHCR since 2018
The pandemic did indeed accelerate almost unwittingly the rise of innovation in the humanitarian sector, but let's not forget that IOs and NGOs have been implementing new and creative approaches for several years now. 
In 2018, UNHCR launched the NGO Innovation Award, which salutes the efforts and achievements of NGOs developing innovative approaches to protecting and providing services to refugees and other groups of people that fall under the competence of UNHCR. These approaches not only benefit vulnerable people, but also other organizations in the field, strengthening the entire humanitarian system, and complementing existing, time-tested processes. 
This year, the Award wished to highlight woman/girl-led organizations (WLOs) working with or supporting refugees, internally displaced persons, returnees, stateless persons, and host communities. A total of seven laureates were recognized. 
Burundi refugee soap making business thrives after winning Youth Conneckt young innovators award 
COVID-19: innovating is no longer optional 
When it seems that everything has come to a halt, but crises keep unfolding and people need help more than ever, what should we do? Because of COVID-19, the world started to slow down in March 2020, causing lockdowns all over the planet.
Very quickly, the protection and well-being of individuals around the world started to be negatively affected by the pandemic: diminished asylum access, loss of freedom of movement and livelihoods, increased food insecurity, and a greater risk of sexual and gender-based violence due to vulnerable people being isolated. Refugees and other persons who UNHCR cares for are among the most vulnerable people impacted by the pandemic. 
In order to continue protecting them, as well as anyone in need of humanitarian assistance, we had to adapt. Fast.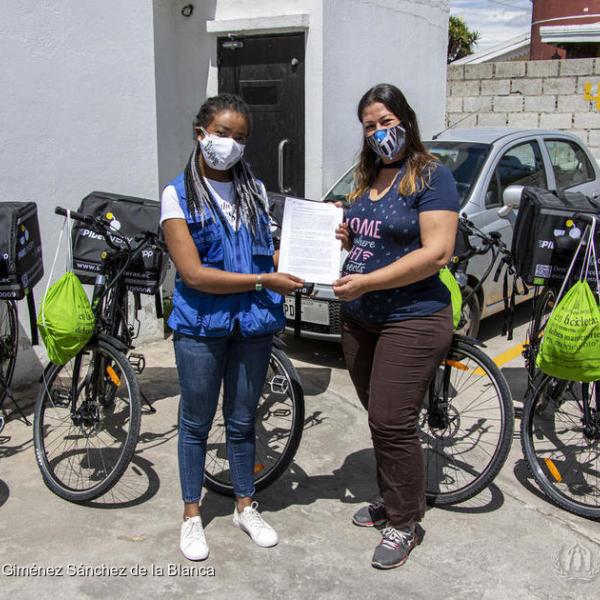 UNHCR Senior Livelihoods Assistant, Leslie Méndez, assigns an electric bike to Rosa (right), a 46-year-old Venezuelan refugee in Quito, to use as a delivery rider. Rosa arrived in Ecuador in 2016 with her two children. Before the COVID-19 pandemic, she baked cookies and sold them to local bakeries. However, quarantine measures made it impossible to continue and her divorce from her husband compounded her financial difficulties.
The rise of new practices   
COVID-19 boosted creativity and innovation which soon began to play an important part in humanitarian responses. 
Many refugee organizations, working with affected people and host communities, implemented innovative practices such as:
transforming existing livelihood activities into personal protective equipment production activities;
disseminating accurate information about the pandemic in refugee communities through radio talk shows;
producing plant-based soaps for distribution;
using online tools for medical/psychosocial consultations.
"All our ideas are based on the challenges we see around us, or challenges people come to us with. As refugees there are always challenged, this is why there are so many innovations in Zaatari."

Syrian refugees, Youssef (left) and Ahmed, stop on their bikes outside the innovation lab at Zaatari Camp in Jordan. They met in the camp after fleeing the conflict and have since developed numerous innovations to aid refugees' lives.
Making practices sustainable, adapting them… and focusing on continuous innovation 
With the pandemic, humanitarian actors have had to adapt their standard operations to meet the new needs arising from COVID-19. They have done so by coming up with new services or building on their existing programs and strengths to guide their innovative responses. 
Other organizations were created specifically to address the COVID-19 pandemic and relied on host and refugee communities to support their response. Working in partnerships, helping one other, and learning from each other has allowed us to move forward and continue supporting people in need.  
Within these new practices, some will phase out as the pandemic subsides, and others will remain. 
But one thing is certain: the humanitarian sector will have learned to use innovation sustainably.