In 2022, there were 108.5 million people forced to flee their homes worldwide. 41% of them are under the age of 18. While children are among those most affected by situations of forced displacement, their stories are not often heard. The exhibition Déflagrations looks at just that: giving a voice to children who are victims of conflict and forced displacement through their drawings. Following an event co-organised by Switzerland for UNHCR and the Musée International de la Réforme, with the support of the Republic and Canton of Geneva, we put a few questions to Zérane Girardeau, Founder of the Déflagrations project and curator of the exhibition.
How did you come up with the idea of putting together the "Déflagrations" exhibition, and why was it important to have children's points of view on these conflicts?
We need stories, images and their evocative power, to try to get closer to the reality of the violence that is experienced and imprinted on bodies and memories, and also to life that resists, insists... It was a long cohabitation with many drawings (from the First World War to the present day), all made by children who were witnesses and victims of wars and mass crimes, that convinced me of the importance of this work: contribute to giving a place and visibility to these drawings scattered throughout history, and pay tribute to children's desire to tell stories and create again - even after the chaos of destruction, even after the sight of acts that were said to be forbidden and criminal.
Children are everywhere in cities at war, villages looted and massacred, hospitals bombed, forced displacements... what are their stories, their memories, their fears, their dreams? Let's take a look at their drawings, the inscriptions they have left behind in history, whatever the time, culture or region. Recognising their experiences and memories in their own right - isn't that simply what we owe them? The Déflagrations project is working to bring their drawings to light and share them.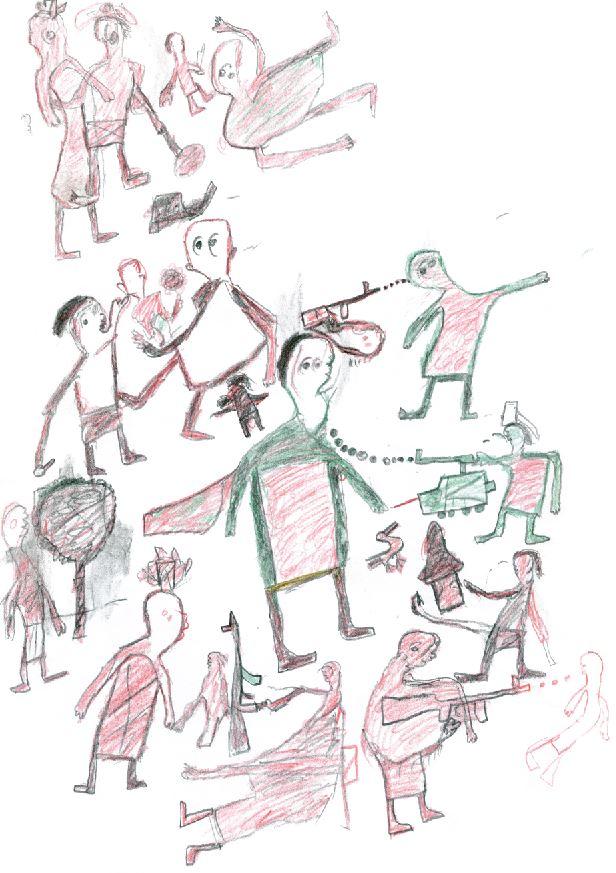 10-year-old boy, IDP camp in the Maban sector, March 2017. ©UNHCR South Sudan/Déflagrations
What role did UNHCR play in the creation of the exhibition?
As the first international organisation to support this project in 2014, UNHCR in France has proposed to several colleagues to take part in this work of identifying children's drawings, notably in Bangladesh, Geneva, Greece, Libya, South Sudan, Chad and Yemen. The trust built up through the years, and the involvement and help of those interested in the Déflagrations project, have enabled us to identify, document and protect some drawings with a common objective: to show and hand them down, while always protecting their authors. Thus, behind each drawing, each child's story, there is a whole team and a great deal of involvement, particularly in the camps for internally displaced persons or refugees. The project preserves this memory.
What message did you want to get across to the public?
Rather than a message, I like to think of the words left by the writer Linda Lê, long associated with Déflagrations, "in the face of darkness, [children] shed a unique light on a world that has lost its way". Their drawings are acts of resistance. Gestures of life against destruction and erasure. They are also warnings held, with a child's insistence, straight before our eyes.
The exhibition Déflagrations is on show at the MIR (Musée International de la Réforme) until 27 August.