Meeting JP Kalonji, one of the three authors
Jean-Philippe Kalonji is a painter, illustrator and comic book author born in Geneva. After having travelled extensively and lived in New York, London and Tokyo, he settled in Carouge, Switzerland with his partner, their daughter and their two cats.
Kalonji is a committed artist who, during his career, has had the opportunity to work closely with organisations such as UNESCO, the London Olympic Committee and the NGO ICAN, winner of the Nobel Peace Prize in 2017. He actively collaborates with Civitas Maxima, and has just illustrated the war crimes trial in Liberia at the Paris Court of Appeal. He has also produced a collection of pencils in partnership with the iconic Geneva-based Caran d'Ache.
Recently, Kalonji wrote and illustrated a comic book about a subject close to our hearts, unaccompanied refugee minors. Created in collaboration with Fabian Menor and Yrgane Ramon, "Seuls en exil" is a moving work that tells and immerses us in the life of three unaccompanied refugee minors, who after having travelled thousands of kilometres, try as well as they can to integrate in Geneva. On the occasion of the book's official release on the 13th of October 2022, we met Kalonji to find out more about the creative process and the importance of addressing this theme.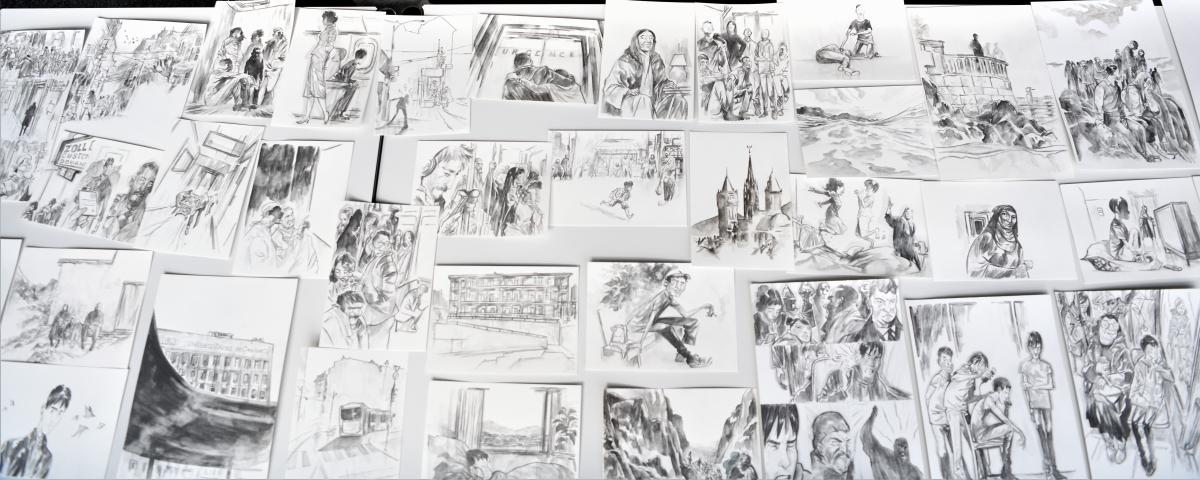 JP Kalonji, who are you?
I am a painter, author, illustrator of comics for about thirty years. I live in Carouge, Geneva and I work with different institutions, such as the Museum of Art and History of the city of Geneva, Civitas Maxima, of which I am a consulting artist, and the NGO ICAN, which focuses on the non-proliferation of nuclear weapons.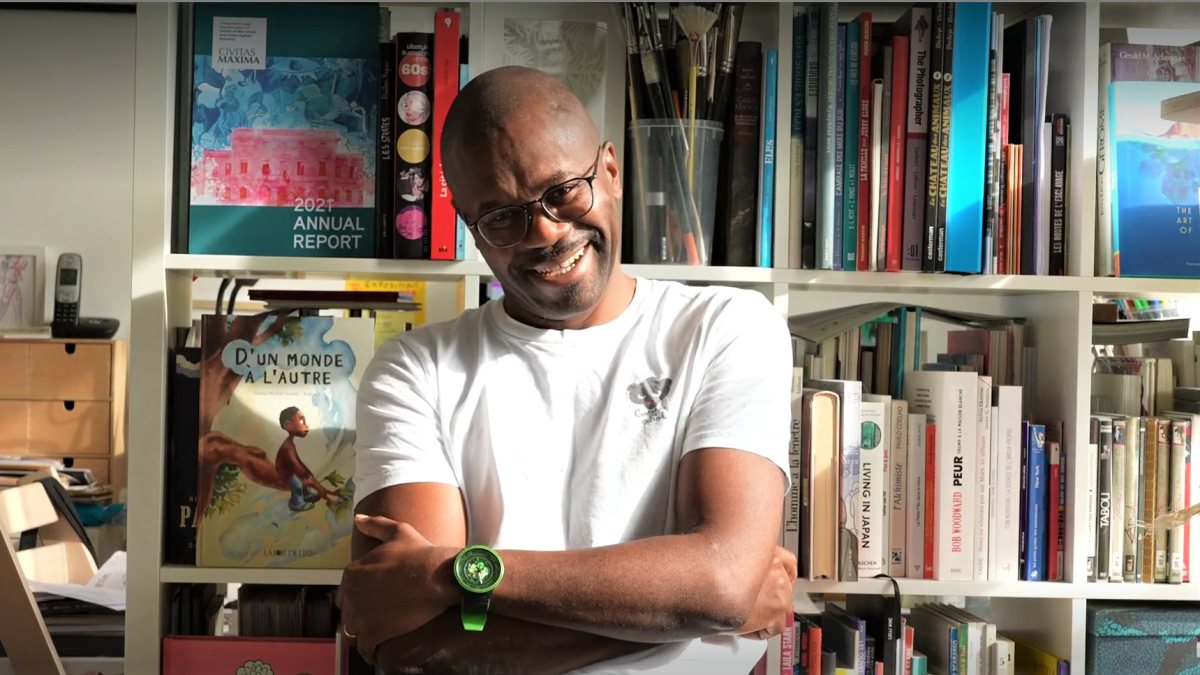 You are one of the artists behind "Seuls en exil", what is this comic book about?
The book is about three young unaccompanied minors who arrived in 2015. Through the pages, we follow their journey in Geneva, among other things.
Where did you get the idea to deal with this subject?
The idea to deal with this subject did not come from me directly, it came from Christel Moretto who works at FASe (Fondation genevoise pour l'animation socioculturelle) and who contacted me to present me with a comic book project. From then on I decided not to write the stories on my own but to share them with two other authors: Yrgane Ramon and Fabian Menor.
How did you approach this joint writing process with the book's protagonists?
The process was not easy because these are life stories in which we can project ourselves, and that is the idea of the book: to put ourselves in the place of these young people who have lived certain life paths and who are still living them at the moment, even every day on the planet. It's saying to yourself: this is happening, how am I going to manage to put it into images? The process is long and difficult, but not impossible because as a comic book writer I know the tools, but it includes meetings, notes, a lot of sketches and interviews. That's why I love comics as a media, because I learn a lot from it. Not only on the subject, but also on my job, and that's what makes me grow.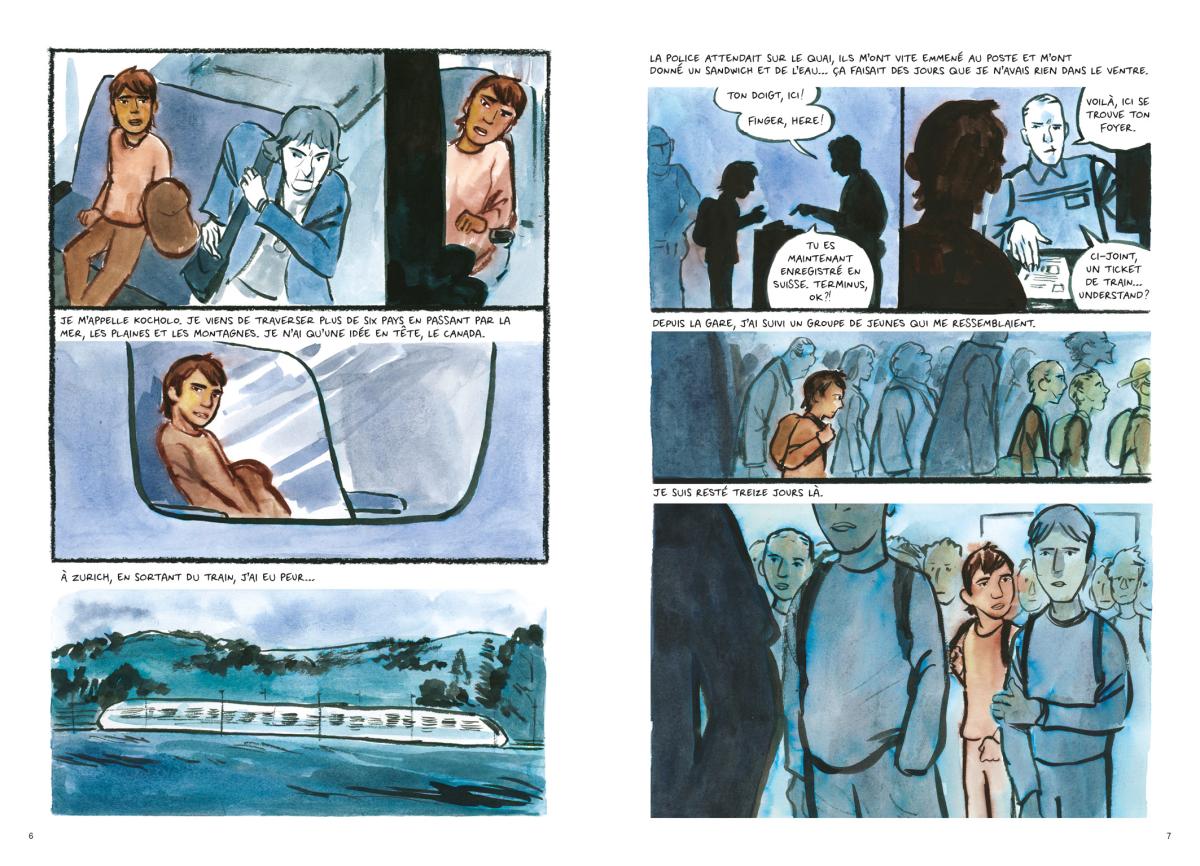 Are unaccompanied refugee minors a taboo subject in Swiss society?
I don't think it is a taboo subject, but I think it is a subject that can be debated a lot more. We don't realise it, but with the amount of information there is constantly, it's quite difficult for the population to understand the situation. For myself, it was a subject in which I perhaps did not necessarily master all the codes. This is precisely the aim of the book, to open up the debate. It is important to be able to talk about it and to consider that these young people who cross Europe and arrive in our country are first and foremost young people before being considered only as migrants or refugees. The subject is obviously very vast, but not taboo.
Are comics a different way of raising awareness?
Comics are not only a way of raising awareness in a different way, they are also a very good bridge to tackle this issue. I think that the ninth art (comics) in general is a perfect tool to address these issues that are not talked about enough.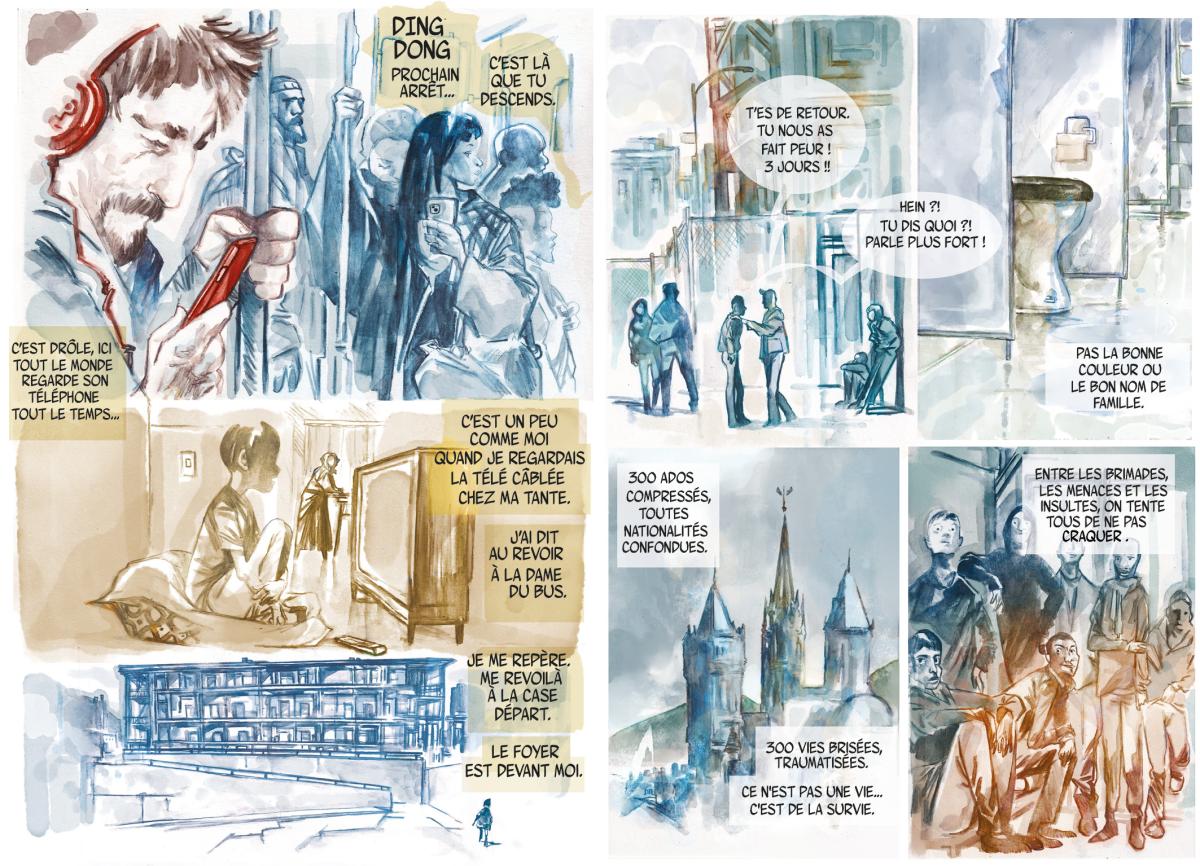 What can the Swiss population do to help refugees, especially young people?
I think that first and foremost we need to educate ourselves, to take an interest. We are all part of this world and we are all citizens of it. Switzerland and Geneva have a great reputation in terms of aid and human rights. We have all the major bodies of the Nations that are in Geneva, including the institutions, so I think that for the population of Geneva or Switzerland, getting informed is something that is easily achievable rather than just being passive actors.
Any closing words?
Keep hope in everything you do, believe in your dreams and see you soon I hope.