SWITZERLAND FOR UNHCR x CARDANO COMMUNITY
Since the beginning of our journey with Cardano, we've had the chance to explore various projects that have given us an insight into the dynamism and creativity of its community.
In support of our main project, WRFGS Stake Pool, here are some of the projects we've launched so far this year.
Our collaborations
For Paris Blockchain Week and Consensus 2023, two prominent events in the blockchain sphere, we partnered with NMKR and TURF NFT and created exclusive NFTs with a real utility. Since all profits went to UNHCR, the UN Refugee Agency, every time one NFT or the entire collection was purchased, individuals around the world helped assist people affected by the Ukraine war or those in the most underfunded crises.
About TURF
Turf NFTs are algorithmically generated interpretations of your favorite places. Every Turf piece is a 1/1 cartographic artwork capturing a 2x2km square of earth.
https://www.turfnft.com
About NMKR
NMKR is an NFT Creation, Minting & Trading Infrastructure provider on the Cardano blockchain, offering a suite of tools that help brands, companies and enterprises to launch Whitelabel custom Cardano NFT projects.
https://www.nmkr.io
Fabio Giampietro x Valuart
On the occasion of Art Basel 2023 - an event bringing together thousands of individuals who appreciate art worldwide, Switzerland for UNHCR is collaborating with Valuart and Italian artist Fabio Giampietro through the launch of  "Eternal Nexus", an exclusive NFT on the Cardano blockchain. 
All proceeds go to UNHCR through WRFGS, our stake pool on the Cardano Blockchain.
The sale launched on June 16th and is available for a limited period of time. 
Set price 40 USD

Open edition
About Fabio Giampietro: He is an Italian artist born in Milan, Italy, where he still lives and works. Giampietro's art melts the tradition of painting with the most innovative technologies conjugating the planes of space and time and annihilating the contemplative distance between the senses of the spectator and the reality of the art work.
https://fabiogiampietro.com/

About Valuart: Valuart is a digital art gallery who has collaboration deals with Artists, Collectors, Foundations, and Brands. They receive the exclusive rights to the tokenization of unique masterpieces and aim to forge the most prominent and curated (Digital) Art Intellectual Property portfolio in the market.
https://valuart.com/
Goat tribe ''Kind Hoofs'' initiative
Switzerland for UNHCR and Kind Hoofs, in collaboration with Goat Tribe, have united their efforts to create exclusive NFTs to raise awareness on the UN Refugee Agency's work to support millions of forcibly displaced people around the world. 
The partnership aims to leverage the power of blockchain and the Cardano community to make a meaningful impact on the lives of those in need.
The totality of the proceeds go to UNHCR, the UN Refugee Agency through WRFGS, our stake pool on the Cardano Blockchain.
1/1 Exclusive NFT Auction

48h NFT Sale : SOLD OUT

More to come, stay tuned!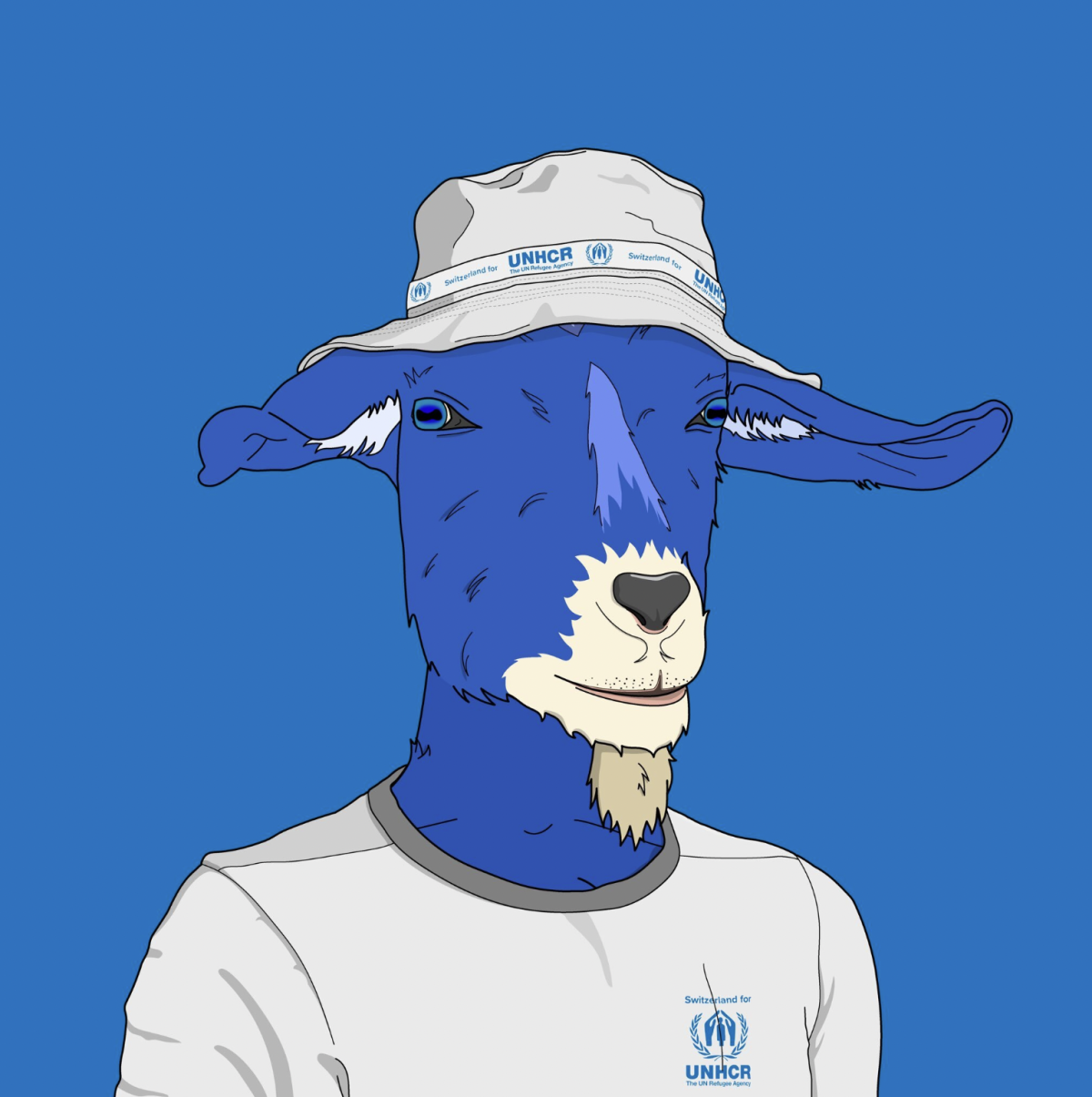 Unique Kind Hoofs NFT auctioned on Dramz Auction House for 520 Ada.
Visit the Kind Hoofs initiative website: https://www.kindhoofs.com/
About Goat Tribe: Goat Tribe is committed to championing worthy causes and raising awareness for initiatives that embody a positive and meaningful message. They promote equality, positivity and community building whilst supporting causes that preserve and improve our environment. 
https://goattribe.io/
Chadi Nassar ''Faces 04 - A world without displacement''
Our partnership with renowned crypto artist Chadi Nassar resulted in the launch of Faces 04 – A world without displacement. It is a limited NFT collection in support of forcibly displaced people and other individuals of concern, with 50% of the profits going to the UN Refugee Agency's operations in the field and towards its innovation programmes.
Nassar wanted to shine light on UNHCR's eight ongoing emergencies, and give a glimpse of what it would be like to live in a world with no displacement. Through his art, he portrays the joyful side of people who we often see represented in refugee camps with a sad expression on their face. 
#WithRefugees
Drop:  7 August, set to last for 3 weeks 

Edition of 88 1/1 NFTs, 11 for each ongoing emergency 

Randomized process 

Price: 288 ADA (Approximately 92 CHF) 

Burn to print feature 
About Chadi Nassar: Chadi Nassar is a Lebanese-born artist and crypto-enthusiast who lives in Dubai. He has a diverse background in biochemistry, business, and luxury jewelry and watches. He rediscovered his passion for art during the COVID pandemic and started creating AI-generated works on various blockchains. He is now a full-time AI agnostic artist who uses different mediums to express his vision. He has participated in markets and solo shows in Dubai and is active in the NFT scene.
An extremely supportive community
Since Switzerland for UNHCR has initiated its collaboration with the Cardano community, more than 1 million ada were raised in delegations on WRFGS, our stake pool on the Cardano Blockchain. 

We would like to sincerely thank everyone who has delegated on WRFGS, no matter the amount. Each member of the Cardano community who helped raise awareness on our cause and on our different projects on the Blockchain, had a real impact on the lives of millions of people forced to flee.
THANK YOU!