This Wednesday, a group of young refugees and professional basketball players got together at the House of Basketball, the headquarters of the International Basketball Federation for a transformational workshop. The aim of the event? Setting the focus on the healing power of art, sports and mentorship.
An opportunity to open up 
During the workshop, both refugees and players opened up and shared their stories, creating powerful connections and fostering an environment of healing, personal growth, and self-confidence. This unique event not only highlighted the importance of overcoming adversity but also showcased the incredible potential for transformation when different groups join forces to support one another. 
Geneva Lions captain Bryan Colon shared his personal story of overcoming adversity. Bryan, who left the Dominican Republic at the age of 10, endured the hardship of separation from his mother and adapting to an unfamiliar country at a young age, resonating with the challenges refugees encounter.
The impact of this workshop has been truly inspiring. Witnessing the refugees and the professional basketball players come together, open up, and forge bonds through their shared experiences is a testament to the transformative power of art, sports, and mentorship.
said Nora Szanto, MSc Psychology, trauma specialist, and high-performance expert, who organized the event.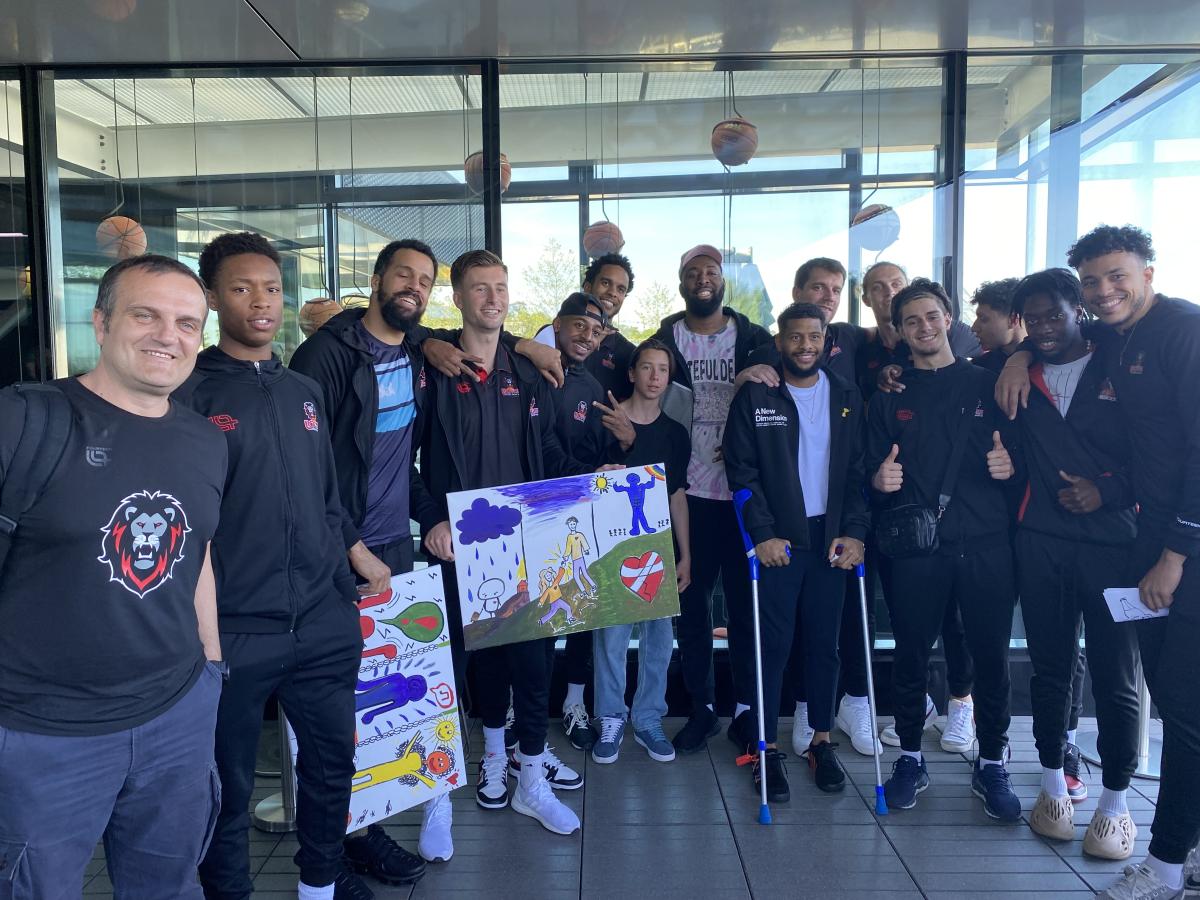 The workshop created bonds between the basketball players and the young refugees. © Nora Szanto
A city committed to including its refugee youth 
This event, connecting local sport stars with the local refugee communities, sends out a clear message of inclusion: refugees are an integral part of Geneva. In this sense, it resonates with the activities organized in the previous years by Servette FC, where the football club invited refugees and asylum-seekers from Geneva to support the team during their game and fundraised in favour of people forced to flee worldwide. 
Last year, Genève Servette Hockey Club (GSHC), now Swiss champions for the first time in over a century, conducted similar activities with refugees and asylum-seekers residing in the canton. From hockey workshops with young refugees and asylum-seekers, to visits to their housing facilities accompanied by Sherkan, the famous eagle of the club, the club also invited refugees and asylum-seekers to support their team and be a part of their community. 
Sports have an immeasurable power for integration and overcoming traumas. Through large and small initiatives, we can all make a difference in the lives of people who were forced to flee and leave everything behind.