Afghanistan cannot rest: Herat province in the west of the country has been shaken several times by severe earthquakes in the past two weeks. Those affected are in urgent need of help. According to UNHCR, the UN refugee agency, 14.4 million dollars are needed to meet the necessities. Thus, the international community is now challenged: We therefore ask you to support the people in Afghanistan with a donation.
The first quake had a magnitude of 6.3 on the Richter scale. It struck the inhabitants of the affected area shortly before noon on October 7. Several strong aftershocks followed. The mud houses of the local families were completely destroyed, and it is estimated that more than 1,000 people lost their lives. Among the victims were mainly women and children who had been in the houses at the time of the quake. Thousands more were injured.
About a week later, on Sunday, October 15, the earth in Herat shook again several times in succession. The quakes had magnitudes between 4.2 and 6.4 on the Richter scale and again caused deaths and injuries.
In total, hundreds of thousands have been affected by the earthquakes. While the survivors mourn their dead relatives, many of them have to sleep under the open sky because their houses were completely destroyed. Winter is just around the corner, so emergency shelter, warm clothes and heating are urgently needed.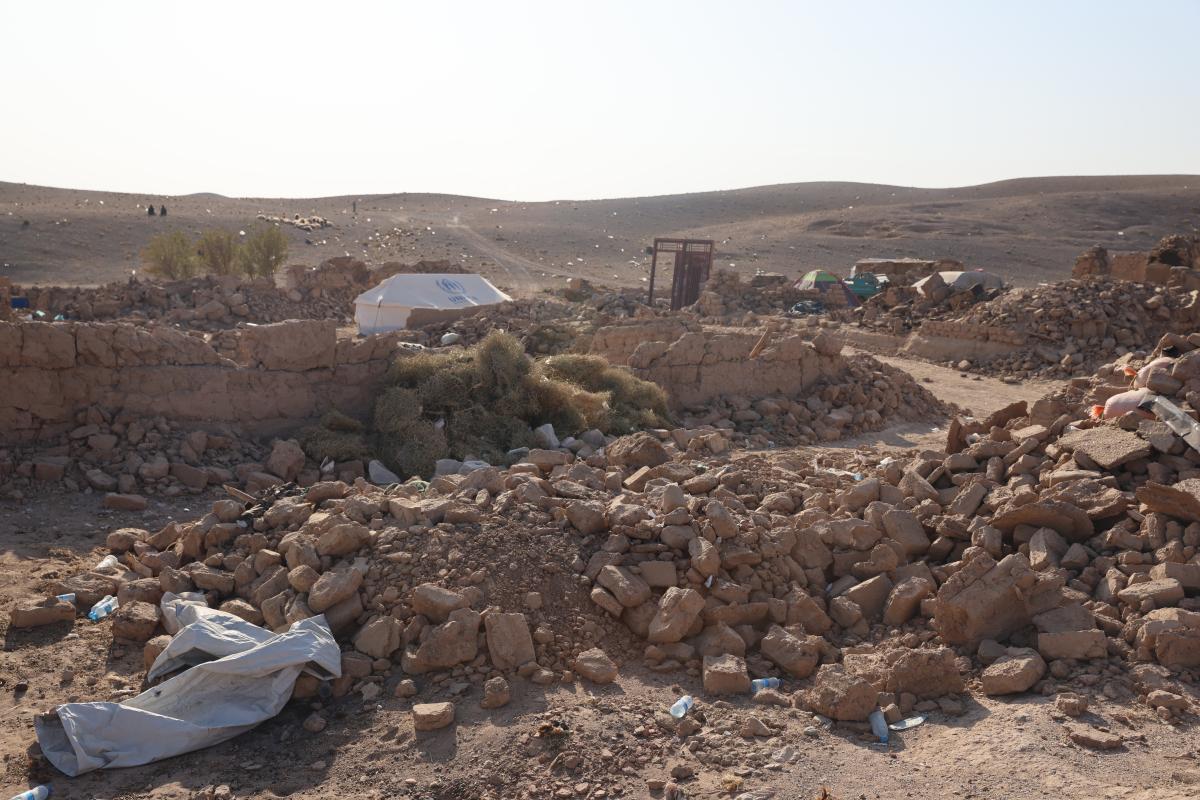 Thousands of buildings were destroyed by the earthquakes. © UNHCR/Samand Ibrahimi
UNHCR has been present in Afghanistan for more than 35 years and is working closely with national and international partners to prevent another humanitarian tragedy. Teams on the ground are equipping people who lost everything in the quakes with tents, blankets, solar lamps and hygiene kits. UNHCR is also providing psychosocial support and cash assistance. We pay particular attention to people with special needs, such as orphans, the elderly, and people with disabilities.
Afghanistan has been rocked by crises for decades. Strategically important, the country has always been of interest to rival great powers and has thus regularly become a theater of war. When the Taliban took power again in 2021, they plunged Afghanistan into a severe economic and social crisis. This was compounded by a prolonged drought. Nearly 6 million people were either internally displaced or forced to flee to neighboring countries. UNHCR is treating the situation in Afghanistan as an emergency. The earthquakes in recent weeks are dramatically increasing the plight of the people there.
We sincerely thank you for helping to support the Afghans with the most basic necessities and to give them hope for the future!
UNHCR distributing tents, blankets and mattresses in the Zinda Jan district. © UNHCR/Samand Ibrahimi